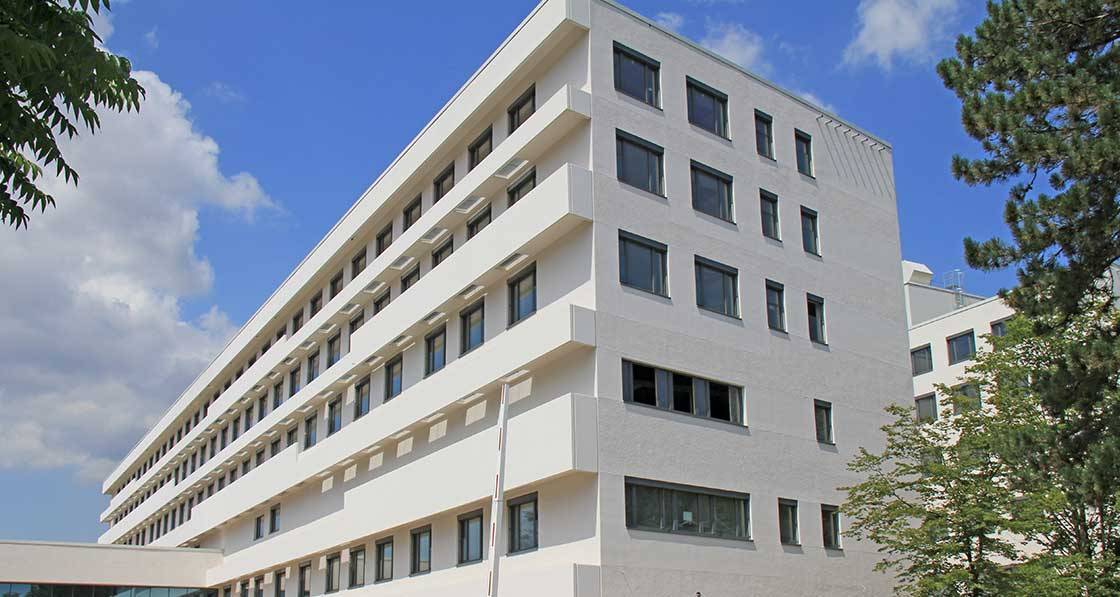 News Desk
World's first passive house hospital completed in Frankfurt
The world's first passive house hospital has been certified by the Passive House Institute – showing that the standard can be applied to even to the most demanding building types.
This article was originally published in issue 42 of Passive House Plus magazine. Want immediate access to all back issues and exclusive extra content? Click here to subscribe for as little as €10, or click here to receive the next issue free of charge
The energy performance specifications for the new 700-bed hospital, Klinikum Frankfurt Höchst, were developed following a baseline study by the Passive House Institute commissioned by the state government of Hesse.
Due to their intensive 24-hour operation, hospitals are one of the most energy use intensive building types, as a large number of technical devices are used in emergency rooms, operating theatres and intensive care units, as well as in the patients' rooms.
In a hospital, the electricity consumption is generally three to four times higher than in a residential building. The baseline study showed that the equipment can have a major influence on energy demand. Energy efficient devices were specified – not only because they use less energy, but because they reduce cooling demand too.
"This precisely is why the energy-efficient concept is particularly worthwhile for hospitals," said Passive House Institute joint managing director Dr Jürgen Schnieders. "This applies for efficiency measures for the building itself as well as for energy-efficient technical devices."
The institute was closely involved in the planning and construction phases of the new building. The high energy efficiency of the building makes it possible to achieve the higher room temperatures required in patients' rooms with less energy use. Fresh air is supplied by the ventilation system, which saves energy via heat recovery.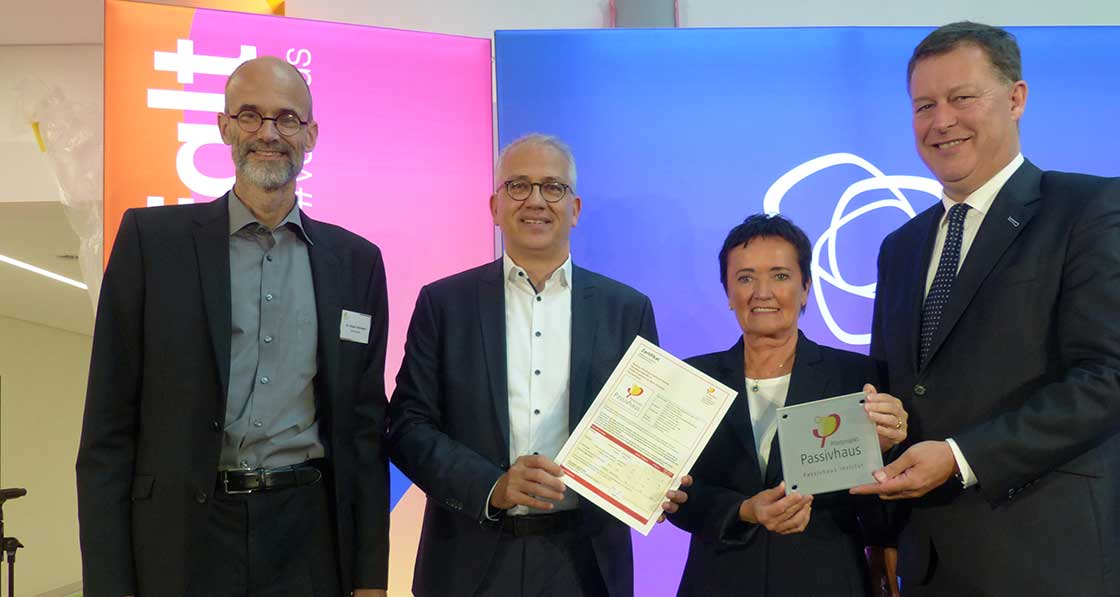 (above, l-r) Passive House Institute joint MD Dr Jürgen Schnieders, Hesse minister of economic affairs Tarek Al-Wazir and city councillor Rosemarie Heilig present the passive house certificate to management board chairman Martin Menger.
The baseline study showed that despite the higher room temperature and ventilation air change rate required, the space heating demand could be limited to the passive house target of 15 kWh/m² using coordinated measures.
The new hospital building provides more than 660 beds for patients and another 40 beds in an outpatient clinic, in addition to eleven operating theatres. Over 1,600 employees will be working in the new building.
In order to assist with more hospital projects – including new builds and refurbishments – the Passive House Institute has made the baseline study on the implementation of the passive house standard in hospitals available free of charge.