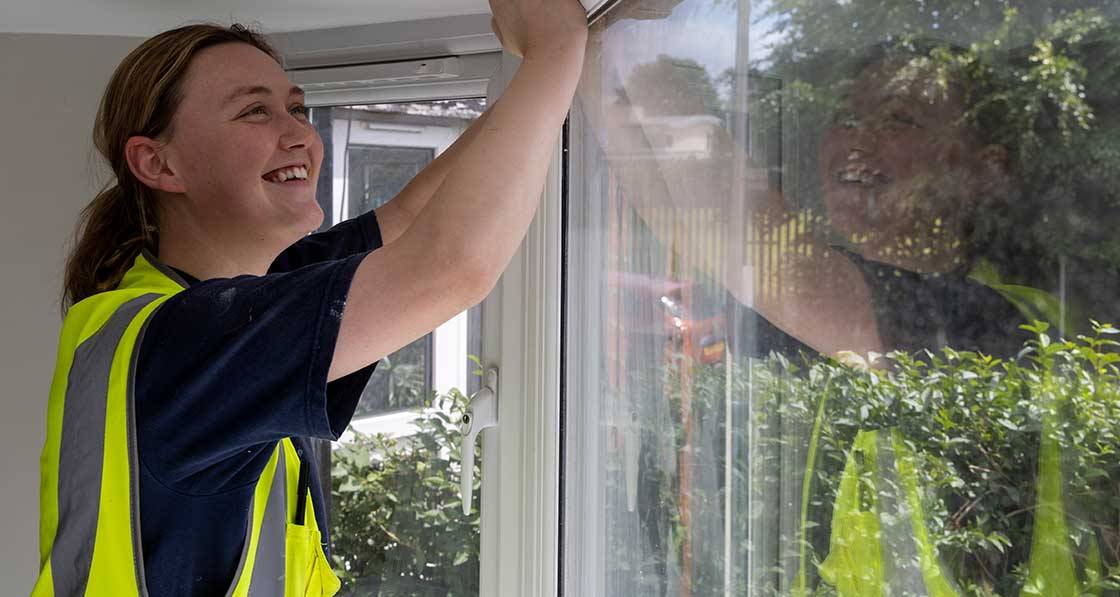 B4Box multi-skilled operative Orianne Landers completing a double-glazing window upgrade on a retrofitted property in Stockport, Greater Manchester. (Photo: Andy Aitchison/Ashden)

News Desk
Ashden Awards winners showcase climate solutions
Organisations tackling the UK cost of living crisis and providing a new generation with the skills for green jobs have been recognised in this year's international Ashden Awards.
The three UK winners, which were among eight global winners, were announced at a ceremony at the Royal Geographical Society in London, hosted by broadcast meteorologist Laura Tobin.
Musician, producer, visual artist and climate action advocate Brian Eno also took part in an on-stage conversation with Ashden's CEO Harriet Lamb, to discuss the climate crisis and the importance of extending the learning from the trailblazing climate innovators celebrated at the awards.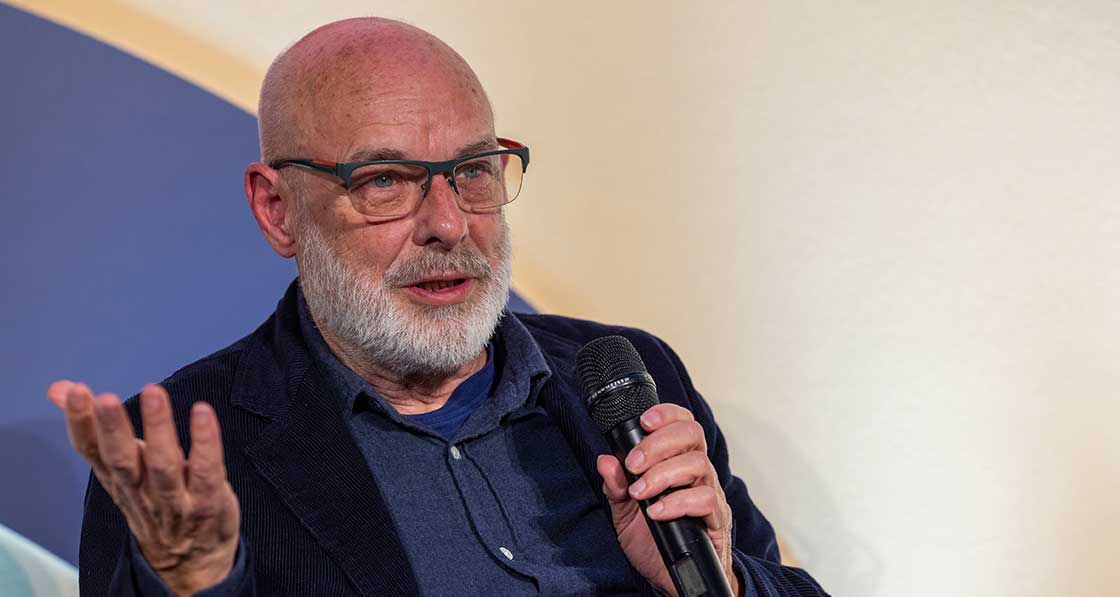 Keynote speaker, musician and climate action advocate Brian Eno spoke about society being "in a golden age of intellectual activity… we've seen the destructive phase, but now we're in the biggest movement in human history - the climate movement. People are re-building everything."
The diverse group of Ashden Award winners from the UK includes retrofit training provider B4Box, who won the Ashden Award for Low Carbon Skills, supported by Garfield Weston Foundation. B4Box train disadvantaged people in North England to retrofit homes and reduce energy use, emissions, and heating costs in a part of Manchester severely affected by fuel poverty.
Stockport-based Vectar Studios won the Ashden Award for Greening All Work, supported by LinkedIn. Vectar make film and TV sets from engineered cardboard with comparable strength to MDF but 90 per cent lower carbon footprint, slashing emissions and cutting waste. The sets, which are a sustainable alternative to timber-built sets, have been used by broadcasters around the world and are being trialled by ITV's Coronation Street.
Scottish company Renewable Parts Ltd won the Ashden Award for Energy Innovation, supported by Impax Asset Management. The Argyll-based company are the first business in the global wind turbine industry to refurbish components so they can be used again. Their circular model is helping decarbonise the supply chain and has stopped more than 100 tonnes of waste going to scrap.
The winners were chosen from over 200 applicants by judges, including housing experts, energy sector specialists and award sponsors. Ashden CEO Harriet Lamb said: "In a time of skyrocketing energy bills and political instability we can't wait for government to make all the necessary changes. These sector leaders are magnificent examples of tenacity and innovation in action, driving forward with scalable solutions to some of UK society's most pressing issues.
"Across a range of industries, they show that the transition to a low carbon future is exciting and can be positively impactful in so many ways – transforming the building and wind industries and even film and TV – they are showing that ingenuity is the key to decarbonisation in the UK. This move to low carbon jobs also presents huge opportunities - the green transition is not about giving things up, it's about creating jobs, giving people new skills, and creating a more positive future.
"There is a desperate need for the UK government to put in place the policy infrastructure, and desperately needed funding, to supercharge these exemplars showing how we can meet climate targets and bring a whole host of benefits to so many."
Runners up in the UK included: FarmEd, Oxfordshire, who are helping shape the future of the UK's agricultural sector by raising awareness of regenerative farming that enriches the soil whilst removing CO2 from the atmosphere; Greater Manchester's Low Carbon Academy, who are providing local people with the green skills and a range of qualifications needed to retrofit homes and carry out other energy efficiency measures; and in the north and east of England, Connected Energy are the only organisation in the UK to repurpose second-life electric vehicle batteries for use in commercial scale energy storage projects.
"The runners up in the UK also showed huge potential for replication and scalability country-wide and we want to celebrate them too for their incredible work. Training farmers in regenerative agriculture, builders in retrofitting skills, and giving EV batteries that would otherwise go to landfill a second life, are all initiatives that are necessary for the decarbonisation of the UK," said Lamb. Ashden Award winners in the global South, including four from Africa and one from Indonesia plus runners up from India and Peru were also celebrated at the London ceremony.
This article was originally published in issue 43 of Passive House Plus magazine. Want immediate access to all back issues and exclusive extra content? Click here to subscribe for as little as €15, or click here to receive the next issue free of charge
Two Kenya companies won international awards. Kakuma Ventures won the Ashden Award for Energising Refugee Livelihoods, for creating clean energy, internet connections and new jobs for refugee camp residents.
SokoFresh won the Ashden Award for Energising Agriculture, for its sustainable cold storage for smallholders, matched with help getting products to market.
There were joint winners of the Ashden Award for Energy Access Skills: ground-breaking Togolese training centre Energy Generation for empowering entrepreneurs to create solutions for Africans by Africans, sparking opportunities for women; and Zimbabwe's Zonful Energy, who provide solar training for rural young people, through collaboration with colleges and NGOs, alongside connections to jobs.
The Ashden Award for Natural Climate Solutions was won by Indonesia's Alam Sehat Lestari (ASRI), who work with Indigenous communities, replanting trees in deforested areas and promoting sustainable forms of income to reverse illegal logging.
Since 2001, over 240 innovators in the UK and global South have won an Ashden Award. Ashden uses its network to amplify their voices and raise awareness of their work. To maximise impact, the climate solutions charity also makes connections with funders, investors, policymakers and others, providing a global platform to showcase their initiatives.
Last modified on Friday, 13 January 2023 16:22