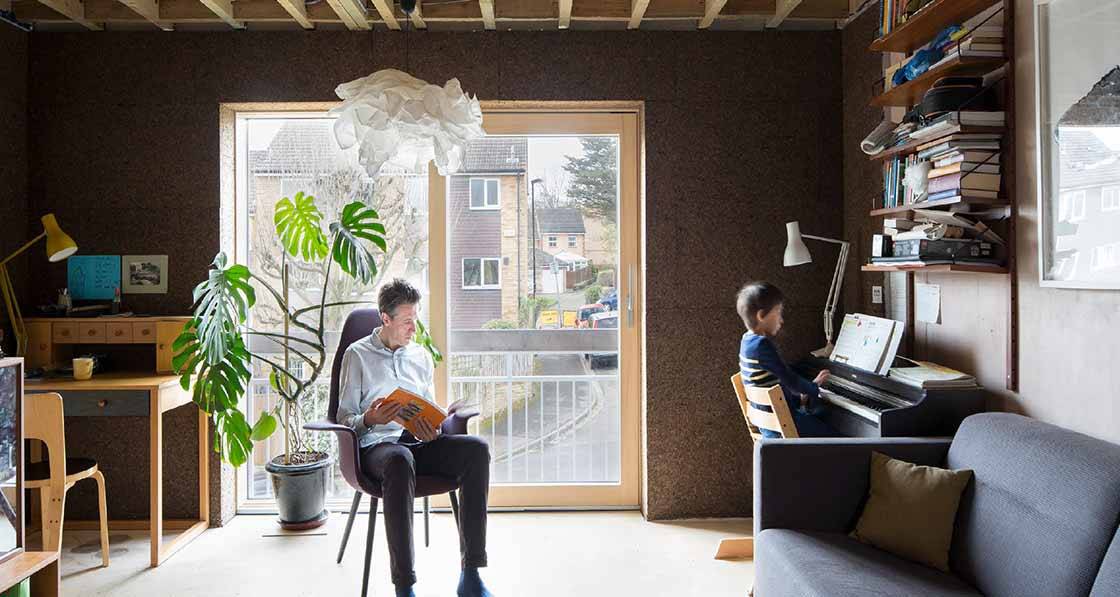 Bowman's Lea photo: Harry Paticas/Agnese Sanvito

News Desk
Design and performance centre stage at UK Passivhaus Awards
A pioneering co-housing scheme, a cube-shaped self build, a cork and polyester- insulated retrofit to a 1970s house, a glulam timber school, and a curved college building were the winners at the 2023 UK Passivhaus Awards.
This article was originally published in issue 45 of Passive House Plus magazine. Want immediate access to all back issues and exclusive extra content? Click here to subscribe for as little as €15, or click here to receive the next issue free of charge
While awards for buildings tend to focus on newly completed projects in spite of the absence of post occupancy data, the Passivhaus Awards instead require entrants to demonstrate proven performance over time – and eagle-eyed readers may recognise some of the winners from previous issues of Passive House Plus.
Over 200 people attended the awards on 5 July, which were sponsored by Ecology Building Society, Knauf Insulation and Munster Joinery. The competition was fierce, with an inspiring array of exemplary projects on display. For the first time there was a tie in the residential new build category, with two markedly different joint winners: Ostro Passivhaus and Cannock Mill Cohousing.
Designed by Anne Thorne Architects, the groundbreaking Cannock Mill Cohousing is a wonderful example of what can happen when communities manage to forge an alternative to speculative housing development: a 23-unit cellulose-filled timber frame scheme in Colchester, Essex which simultaneously combats loneliness and climate change, and featured in issue 40 of Passive House Plus.
Paper Igloo Architects' Ostro Passivhaus in Stirlingshire, which featured in issue 37, is a striking example of how great design can overcome even the most onerous self-imposed restrictions: the wood fibre-insulated, cubeshaped building could barely have had a better form factor, but the fenestration and beautifully- detailed diagonal Siberian larch cladding and reveals give this project a real visual flourish.
With polyester clothes and Cork interior décor conjuring images of the 70s, it seems fitting that both materials should find a home in a retrofit to a house built in that decade: Bowman's Lea. The Harry Paticas-designed retrofit to a London townhouse, which won the retrofit award, uses recycled polyester to insulate the loft, and cork internal wall insulation.
The winner in the non-domestic category was passive house stalwarts Architype's Hackbridge Primary School, a beautiful, passive house plus-certified school near the pioneering experimental green housing scheme BedZed.

Hackbridge photo: Architype/Jack Hobhouse
The building, which is achieving net zero operational carbon, includes a cellulose-insulated panelised structural timber frame with glued laminated timber (glulam) columns and beams and a Larsen truss – a system which uses timber boarding to frame out the external insulation zone while minimising the use of timber.
Meanwhile Hamilton Architects' Erne Campus won the people's choice award. The curved new home for South West College, Enniskillen, generates four times more energy on-site than it uses. The world's first educational building - and currently the largest building – to be certified to the passive house premium standard, Erne Campus is also BREEAM Outstanding certified.
The shortlisted projects included a number of other exemplary projects, such as:
Tooley Foster's Foleshill Health Centre, Coventry – the first NHS certified passive building;
Roger Burton's Chester Road Passivhaus, Stockport – a timber frame home with a large PV array and only electric convective heaters. The project was commended;
Michal Rudnicki and Huff & Puff Construction's Parc y Rhodyn, Wales – a straw-filled structural insulated panel (SIPs) house in Wales, that also meets the One Planet Development policy and is entirely off-grid;
A D Practice's Harpenden Enerphit Plus, Herts – a PV-roofed deep retrofit published in issue 43 of Passive House Plus
RDA Architects' Modernist Enerphit Plus, London – a sensitive retrofit to a 1960s modernist house published in issue 44 of Passive House Plus
Mark Siddall's Shepherd's Barn. Durham – an Enerphit Plus retrofit using the box within a box approach – with a cellulose- insulated timber frame built within original and rebuilt stone walls.
To view all winners and finalists, visit https://tinyurl.com/UKPHA23