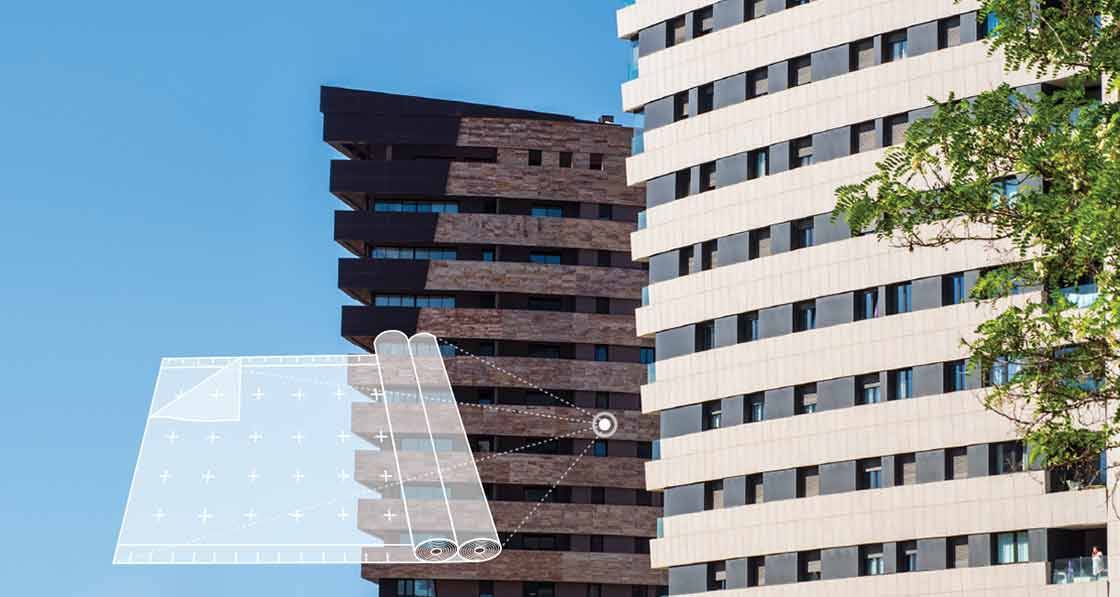 News Desk
Partel develops two new fire-rated breather membranes
Partel, a leading manufacturer of airtight and windtight membranes, has developed two new fire-rated breather membranes that exceed current fire safety regulation levels for high-rise and high-risk buildings: Exoperm Duro A1 and Exoperm Mono Duro A2.
This article was originally published in issue 44 of Passive House Plus magazine. Want immediate access to all back issues and exclusive extra content? Click here to subscribe for as little as €15, or click here to receive the next issue free of charge
The high-performance membranes are designed to achieve the highest levels of fire performance while also protecting the building structure by allowing vapour to diffuse from within the assembly towards the exterior, keeping the internal components of the wall dry, preventing 'thermal bypass' of external air through the insulation, and performing the secondary task of weather protection.
Suited to offsite and onsite construction, and commercial or residential projects, both solutions are fully independently certified and tested in accordance with EN13501-1. The membranes are compliant with Document B Fire Safety and are suitable for use in a range of external wall types, especially in high-rise buildings or those that pose a greater risk of fire safety.
Regulations state that membranes used as part of an external wall construction above ground level must achieve a minimum of Class B-s3, d0 – a result well below the A2 or A1 levels.
"At Partel, we are proud to introduce our additional fire-rated breather membranes, Exoperm Duro A1 and Exoperm Mono Duro A2, which go beyond current fire safety regulations and complement our limited combustible vapour control layer Izoperm Plus A2," said Partel director Hugh Whiriskey.
"We are committed to developing advanced membranes that will help to facilitate offsite manufacturers, contractors, and architects create façades that are fully non-combustible, and sustainable."
The newly engineered breather membranes incorporate advanced technology with an integrated glass fibre fabric to deliver the highest fire performance levels and protection. Exoperm Duro A1 is non-combustible and suitable for use on closed joint façades. Alongside fire performance, Exoperm Duro A1's technical attributes ensure long-term protection of the assembly, with a highly vapour open Sd value of 0.03 m, along with resistance to water penetration and dimensional stability.
Exoperm Mono Duro A2 is an innovative airtight yet vapour permeable façade membrane, based on monolithic technology.
This is Class A2-s1,d0, guaranteeing limited- combustibility, absent or very limited smoke emissions, and no burning droplets. It is suitable for use on open or closed joint façades and balances airtightness, moisture management and secondary weather protection with fire performance.
For more information visit partel.ie or partel.co.uk