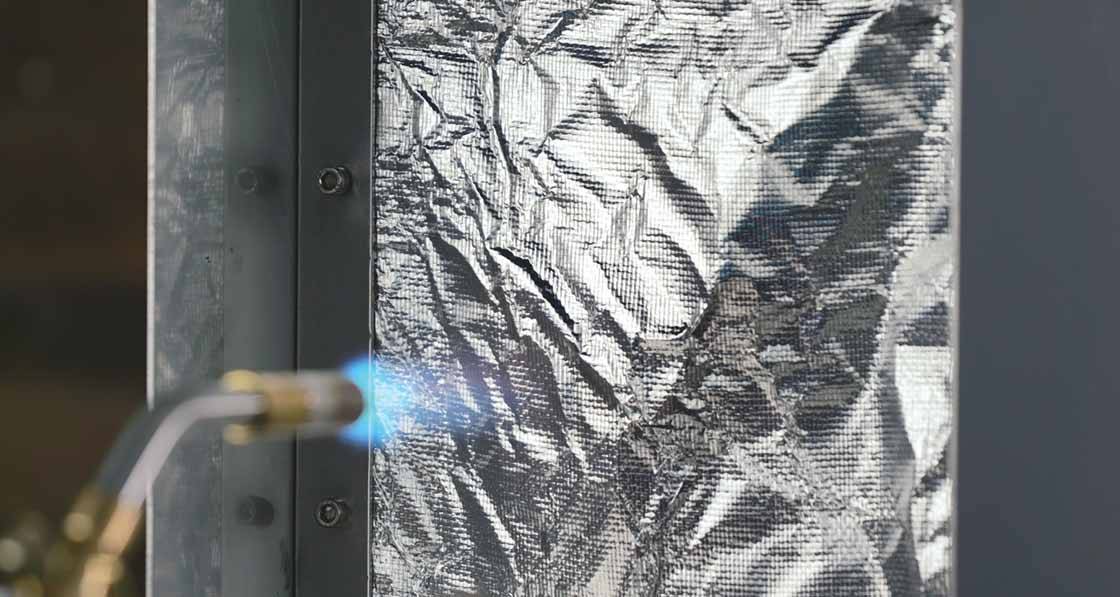 News Desk
Partel launches new Euroclass A2 fire-rated vapour control system
Partel's newly launched Euroclass A2 Izoperm Plus vapour control system, designed for internal applications in energy efficient buildings, has become the first fire-rated solution in this class developed in Ireland.
This article was originally published in issue 38 of Passive House Plus magazine. Want immediate access to all back issues and exclusive extra content? Click here to subscribe for as little as €10, or click here to receive the next issue free of charge
The system is comprised of Izoperm Plus FR vapour control layer plus Echoseal Alu FR adhesive tape. As a passive fire protection solution, the system is designed to safeguard critical structural components, and to slow and confine a fire once it has started, providing "outstanding fire safety and smoke protection for both occupants and construction assets", according to Partel.
The system was tested to and successfully received the Euroclass Class A2-s1, dz0 standard in accordance with EN 13501-1, making it ideal for taller buildings.
"High-rise structures, by their very design, pose particular fire-safety issues. As a result, building codes for high rises emphasise fire-resistant construction. Our integrated technical solution was explicitly built in response to evolving building requirements to be Class A2-s1, dz0 fire-rated — facilitating designers, architects, and building professionals to achieve modern resilient buildings," said Hugh Whiriskey, founder and technical director of Partel.
Partel said that its high-performance membrane and tape uses an innovative technology based on lacquered aluminium laminated with strong glass fibre. Both aluminium and glass fibre are non-combustible, ensuring excellent fire resistance, the company said, and this unique composition guarantees superior structural integrity and durability alongside a high mechanical resistance and maximum airtightness.
Izoperm Plus FR acts as an air and vapour control layer, preventing condensation and improving energy efficiency in building assemblies. It is suitable for all construction types, especially mid and high-rise public buildings such as offices, hospitals, schools, and shopping centres where building codes recommend a higher level of fire safety.
The system has been extensively tested in accordance with EN 13823 (single burning item test) and has successfully received the Class A2-s1-d0 standard in accordance with EN 13501-1. In this case, s1 indicates the highest performance category for minimum smoke production if ignited by a fire, and d0 represents the highest performance category with regards to the potential for hot droplet/ particle production.
"The system comes with an unmatched 20-year warranty and uncompromising quality from Partel," Hugh Whiriskey said.
For more information see www.partel.ie.
Last modified on Tuesday, 31 August 2021 08:31