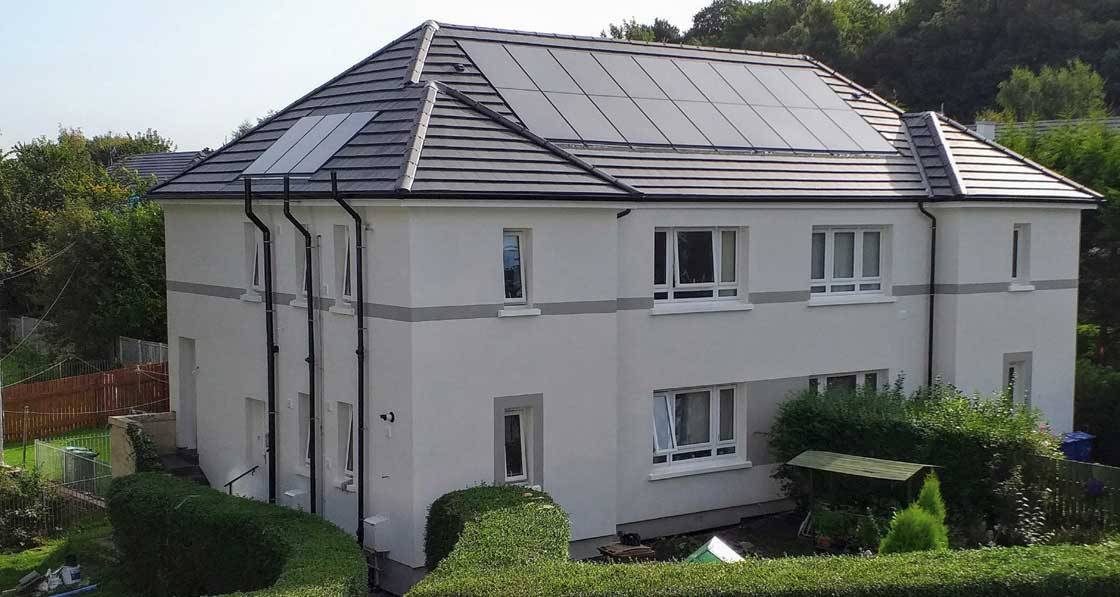 News Desk
Renfrewshire aims for 3,500 whole-house deep retrofits
A major new social housing retrofit programme by Renfrewshire Council will see up to 3,500 local authority dwellings renovated to either
Enerphit
or the AECB Retrofit Standard.
This article was originally published in issue 41 of Passive House Plus magazine. Want immediate access to all back issues and exclusive extra content? Click here to subscribe for as little as €10, or click here to receive the next issue free of charge
Leading low energy and passive house architects ECD have won a £4m design contract to lead the retrofit of between 3,000 and 3,500 dwellings for the local authority — which includes suburbs like Paisley, Linwood and Johnstone to the west of Glasgow — over the next four years.
Duncan Smith, former housing strategy and asset manager at the council — who wrote the specification for the contract — said that it was designed to ensure quality control and a high standard of retrofit.
"These retrofits will benefit some of the most vulnerable, some of the poorest people in our communities, those most at risk of the cost-of-living crisis and fuel poverty," he said. "It's about reducing energy demand, closing the performance gap, and designing homes that are fit for purpose."
As well as stipulating that all dwellings must be retrofitted to Enerphit, as an ideal target, and the AECB Retrofit Standard, as a backstop, the contract also requires that retrofits adhere to PAS 2035 principles.
The AECB Retrofit Standard is a wholehouse, fabric-first standard that is based on the Passive House Institute's Enerphit specification, but less onerous, with a space heating demand target of 50 KWh/m2/yr, as opposed to 25 KWh/m2/yr for Enerphit.
PAS 2035 is a new process for the energy retrofit of UK domestic buildings. It was developed as part of the 'Each Home Counts' process, which was established to tackle the high level of failure in domestic retrofit under government-backed schemes, though widespread adoption of PAS 2035 has been slow to date.
PAS 2035 mandates a number of specific roles on retrofit projects, including project designer, project manager, retrofit co-ordinator, and retrofit assessor, with minimum qualifications and/or professional accreditations for each.
Renfrewshire's contract stipulated that RICS professions must be appointed to the key roles of retrofit assessor and retrofit co-ordinator.