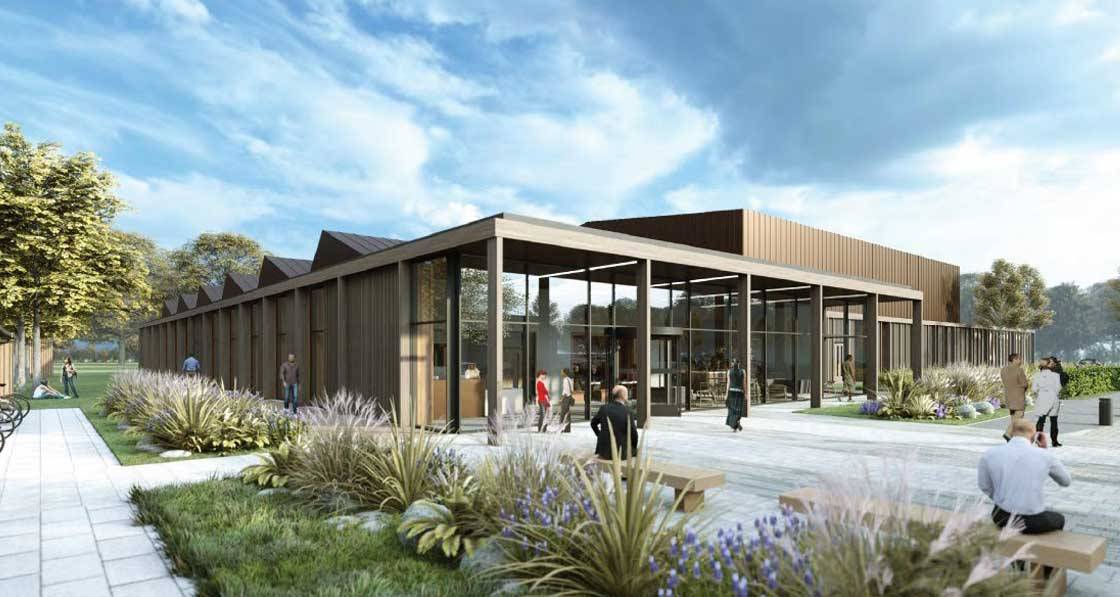 Rendering: Bond Bryan Architects

News Desk
AECB conference to showcase timber innovation
The AECB conference 2022 will focus on practical solutions to decarbonising buildings, with a particular emphasis on timber-based approaches with the potential to deliver low energy, healthy buildings at scale while minimising the use of precious resources and impact on the environment.
This article was originally published in issue 42 of Passive House Plus magazine. Want immediate access to all back issues and exclusive extra content? Click here to subscribe for as little as €10, or click here to receive the next issue free of charge
With live demonstrations front and centre to the event on 30 September, particular emphasis will be placed on the role of innovative uses of timber and bio-based materials, with a focus on giving delegates a detailed understanding of a number of carefully chosen assemblies. The event will also give delegates exclusive access to information on a new AECB retrofit standard for delivering retrofit where significant building fabric interventions may not be viable.
The venue for the event is a significant point of interest in its own right: the brand new mass timber-built Centre for Advanced Timber Technology (CATT) at the New Model Institute for Technology and Engineering (NMITE) in Hereford, which delegates will be invited to tour.
The event will focus on a demonstration area showcasing a number of assemblies for new build and retrofit, including assemblies developed by AECB experts, and proprietary assemblies from AECB partners. These assemblies will then remain at CATT for at least six months to inform and educate visitors including industry professionals and students, via a number of events and courses Breakout sessions will see delegates splitting into groups to participate in workshops demonstrating how each assembly is constructed, to give delegates a detailed understanding of practical best practice examples – and provide the opportunity for networking and focus group-style feedback to manufacturers and component suppliers.
The AECB is partnering with a number of carefully selected suppliers in the industry to sponsor the event, help build the AECB assemblies and provide proprietary assemblies. Confirmed sponsors include some of the leading suppliers of high performance, low environmental impact building products on the UK market. Platinum sponsors include Partel, Ecological Building Systems, and a joint sponsorship from Steico and Ecomerchant, along with gold sponsor Green Building Store.
Partel are providing a number of products for an AECB deep retrofit and extension assembly, which will also include a window provided by Green Building Store. Ecological Building Systems are providing products for an AECB lighter retrofit assembly, to showcase appropriate solutions for harder to treat buildings. Woodfibre insulation and I-joist supplier Steico are teaming up with specialist distributor Ecomerchant to build assemblies showcasing the use of timber and timber-based products.
The event will kick off with an introductory talk from CATT director Prof Robert Hairstans, followed by plenary talks from AECB CEO Andy Simmonds and Passive House Plus editor Jeff Colley, which will outline the thinking behind this year's conference, and how those thought processes manifested themselves in the assemblies on display. The event will then call on AECB experts Beth Williams of Build Collective and Toby Cambray of Greengauge to discuss the assemblies from a structural engineering and building physics perspective, while PHribbon author Tim Martel will discuss the implications of each assembly in embodied carbon terms.
Delegates will then break out into discussion groups for each assembly, aided by technical experts from product suppliers and AECB experts.
Building on a new partnership between the AECB and the Centre for Advanced Timber Technology, the assemblies at the conference will remain in situ at CATT for six months as education displays, with quarterly reviews thereafter. The assemblies will be utilised by CATT as part of the Timber TED (Technical Engineering & Design) 1 and Timber TED 2 courses to run at NMITE, in conjunction with Edinburgh Napier and Timber Development UK, from September 2022 to April 2023. After this, the assemblies will feature in a proposed BSc in Sustainable Built Environment from Sept 2023, as well as in CPD events CATT plans to run in partnership with a range of industry bodies over time.
From September to December, CATT will also be displaying the Department of Education's (DfE) GenZero prototype classroom, formed from UK homegrown timber – which will also be on display during the AECB Conference. The DfE plans to run a series of workshops to a range of different organisations, and to people ranging from school children to civil servants. The DfE also aim to launch their energy pod concept at CATT in the 1st quarter of 2023.

Tickets can be booked now from https://aecb.net/aecb-2022-conference/
Last modified on Wednesday, 14 September 2022 09:32