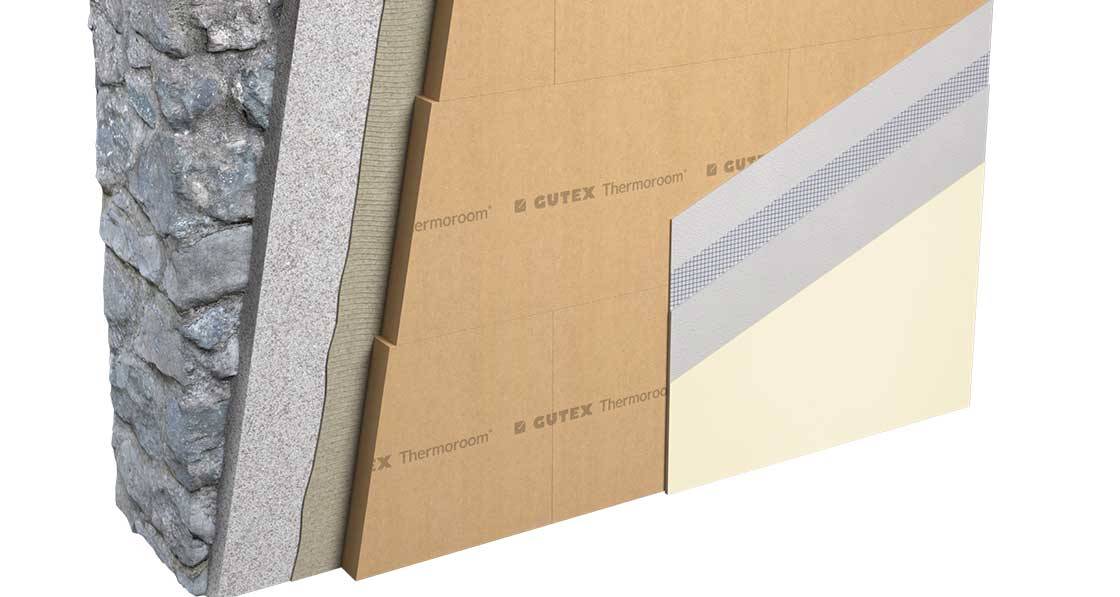 An illustration of Retro EcoWall applied to a solid stone wall.

News Desk
Ecological launches Retro EcoWall for internal wall insulation
Leading sustainable building product supplier Ecological Building Systems has launched Retro EcoWall, a new quick-to-install internal wall insulation system ideal for traditional buildings, designed to meet the requirements of the nearly zero energy building (NZEB) standard, while minimising embodied carbon.
This article was originally published in issue 43 of Passive House Plus magazine. Want immediate access to all back issues and exclusive extra content? Click here to subscribe for as little as €15, or click here to receive the next issue free of charge
Retro EcoWall was officially launched at the RIAI Architecture & Building Expo in October 2022, where it was highly commended in the 'Best Interior Product' category of the Architect's Choice Awards. The system combines the breathable, insulating and sustainability benefits of Diasen cork lime thermal plaster, Gutex high performance wood fibre insulation boards, and Lime Green Solo finishing plasters with Auro plastic free breathable natural paints.
Given the current global energy crisis, there has been much talk in the media and in political circles regarding the urgent need to thermally upgrade the UK's existing housing stock. However, it is estimated that there are over 8 million homes in the UK which are classed as 'difficult to insulate'. These mostly consist of solid brick or solid/rubble stone walls.
The challenge with these types of buildings is to insulate without causing any moisture issues. These buildings (often referred to as traditional buildings) require a more sensitive approach using compatible materials in terms of breathability and thermal performance.
It is positive to see that a recently published internal wall insulation guidance report from the Department for Business Energy and Industrial Strategy (BEIS) discusses the benefits of using low carbon, moisture vapour open insulation materials. In response to the need for appropriate low carbon, moisture vapour open thermal solutions, and the thermal performance requirements needed to safely insulate traditional buildings with no risk of moisture damage, Ecological Building Systems has launched the Retro EcoWall system.
On hard-to-treat traditional walls, it is important to ensure the thermal solution is compatible with the existing wall, not only thermally, but from a moisture management perspective too. Traditional walls are often uneven and require significant preparation to level prior to being internally insulated. This can lead to extended lead times and increased costs, along with the loss of precious internal space. Retro EcoWall provides a comprehensive solution to this, by combining capillary active Diasen cork lime thermal plaster with a moisture open Gutex wood fibre board. Remaining true to the ethos of achieving 'better building' by adopting a 'fabric first' approach to design, breathable lime plaster and natural paint are then applied to complete the system.
A key benefit of combining insulating plaster with wood fibre is that lower U-values can be attained with smaller thicknesses.
For example, combining just 20 mm of Diasen lime cork levelling plaster with 60 mm Gutex wood fibre, improves the U-value for a traditional wall from 2.19 W/m2K to 0.39 W/m2K.
The complete system has also been verified using WUFI hygro-thermal modelling on numerous projects by independent consultants and Ecological Building Systems. Further details can be viewed here: www.ecologicalbuildingsystems.com/solutions/renovation-retrofit