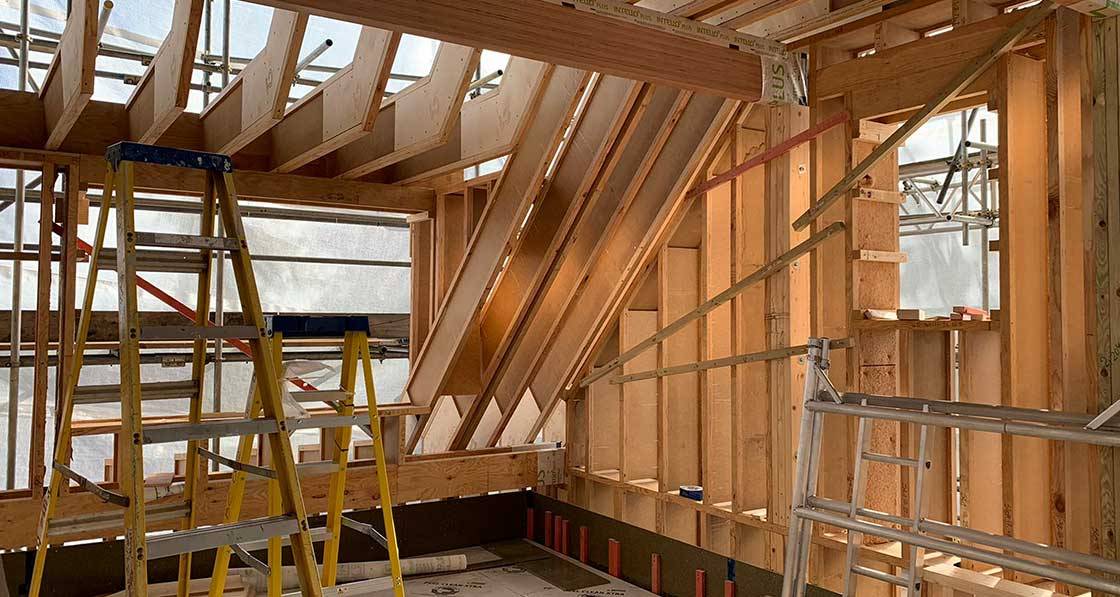 News Desk
PH15: system thinking key to net zero & ecology
System thinking will be key to radically reducing operation energy use in new housing without suffering unforeseen consequences, a leading sustainable building system supplier has said.
This article was originally published in issue 43 of Passive House Plus magazine. Want immediate access to all back issues and exclusive extra content? Click here to subscribe for as little as €15, or click here to receive the next issue free of charge
Architect Jae Cotterell and builder Jonathan Williams set up Passivhaus Homes in 2011 to develop a build system tailored for low embodied carbon passive houses. The pair collaborated on a certified passive retrofit in Totnes (as featured in issue four of PH+), which won the best private house award at the second UK Passivhaus Awards. That project crystallised a belief that an optimized 'fabric first' system solution could support a rapid and low risk transition, which led to the creation of the PH15 system.
"Systems thinking represents a fundamental shift to circular rather than fragmented and linear solutions that are more prone to suffer unintended consequences," said Cotterell. "PH15 is designed to offer a holistic solution that includes technical support and training services alongside the specification and supply of the essential transition components." This includes a contiguous thermal and airtight shell, triple glazing, and heat recovery ventilation. "This remains a unique approach," said Cotterell.
The PH15 system also relies on low embodied carbon materials. "This addresses a common disjunction where minimising operational energy is not connected to a similar focus on material specification," said Cotterell. "Materials have wide-ranging affects and the PH15 specification supports the growth of materials and products that align with a more circular and decarbonised economic model."
"Recognising that upfront carbon needs to be significantly reduced, the UK Climate Change Committee advises that new housing should be built in timber, wherever feasible," said Cotterell. "PH15 builds confidence in timber specification by demonstrating best practice. At its best, timber housing offers longevity, healthy and clean working environments, and an extremely low upfront carbon footprint."
Engineered timber products and offsite manufacturing have a significant part to play in delivering new 'net zero' housing. PH15 uses these advances to create an innovative timber frame shell optimised for buildability. Timber is a precious resource and the PH15 shell has been developed to use timber efficiently, avoid waste, and to be recycled at end of life. The engineered timber products are manufactured by Steico, who utilise all the log in their full range of products, ensuring minimum waste at source. The PH15 frame uses laminated veneer lumber (LVL) mainly in the form of I-joists that enables small timber sections at maximum loadbearing capacity, ensuring low timber fractions while increasing thermal efficiency. "A timber frame with timber-based insulations can achieve more than a 65% reduction in upfront carbon emissions, but overemphasis on carbon sequestration can disguise excessive timber use." said Cotterell. With increasing dependence on trees and timber to mitigate climate change impacts, a balance must be achieved between planting trees for production and ensuring the health and growth of biodiverse forests. Every PH15 shell is therefore carbon offset (stages A1-A4) through the Woodland Trust to protect and enlarge UK ancient woodland.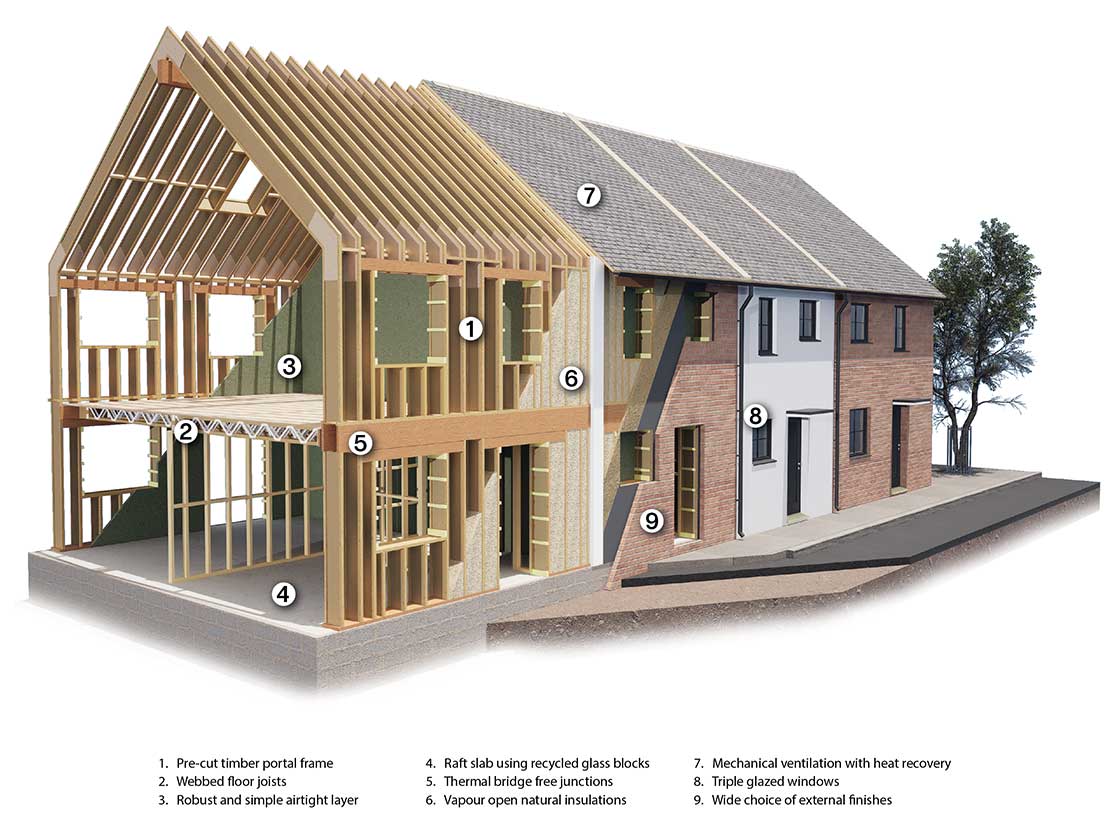 The greater dimensional stability of LVL also makes it ideally suited to offsite manufacturing. Using modern methods of construction (MMC) techniques maintains quality and speeds up erection on site. PH15's cost-effective flexible MMC approach retains onsite labour to support upskilling and investment in the local economy. The frame is accurately cut into prelabelled pieces, and then flat packed to site. "On larger multibuild sites, a 'flying factory' approach could panellise this kit of parts," said Cotterell. This flexible MMC approach contributed to PH15 winning the 2020 Ashden Award for scaleable climate change solutions. PH15 is also accredited under the BOPAS scheme, providing assurance of the integrity of offsite construction systems delivered in a consistent and competent manner.
Cotterell says that traditional, linear procurement routes are not ideally suited to optimisation for critical deliverables. "The PH15 alternative procurement model protects the core fabric specification and performance from the early design stages through to completion, including 'design and build' contracts, ensuring that the key benefits are delivered, and unforeseen consequences avoided. Early PH15 involvement gives greater cost certainty and useful value engineering input." A common unforeseen consequence of low energy houses is overheating risk. PH15 ensures this is modelled and robustly mitigated for both current and future climate scenarios. Risk is mitigated to <5 per cent of annual hours, aiming for <2 per cent.
A team of three can erect a house shell with only one needing to be a skilled carpenter – unlocking potential for sweat equity for self-builders, and for apprenticeship training on multi-build projects and a route for growing meaningful 'green' jobs. To assist contractors nervous about ambitious airtightness targets, PH15 offers a tried and tested training methodology. Integrated training modules address thermal bridge-free details and airtightness to build confidence and upskill. "On average, PH15 projects achieve 0.3 ACH @50 Pa at the first airtight test day," said Cotterell.
"For over a decade, PH15 has consistently delivered passive house levels of performance in varied house shapes and architectural styles across the whole UK," said Cotterell. With climate change impacts gaining pace, the PH15 aspiration is to help deliver multibuilds that showcase well designed, compact, energy efficient timber homes, and all that is best about timber in a 'net zero' context.