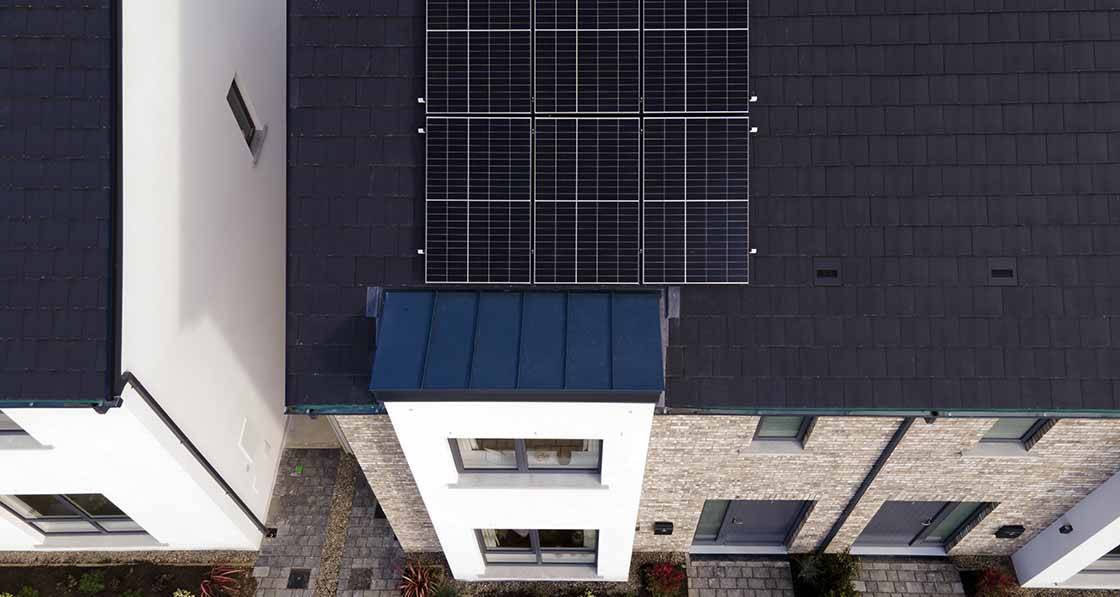 A grid of their own
A new development in County Wicklow demonstrates how typical housing estates might be turned into electricity microgrids through solar power and battery storage, with residents buying and selling renewable energy from each other, helping to insulate them from price spikes and outages.
Click here for project specs and suppliers
Building: Scheme of 365 A-rated dwellings (phase one)
Method: Timber frame with block/brick outer leaf
Location: County Wicklow
Standard: NZEB
On Ireland's east coast, just north of Wicklow town and a few hundred metres from the sea, a new residential development by D-RES Properties is taking shape. Nestled between the Wicklow mountains and the Irish Sea, within easy commuting distance to Dublin, these homes-to-be are within easy reach of many amenities.
The 365 units of Tinakilly Park, comprising 3, 4 and 5-bed family homes and duplexes, get their name from the estate of Tinakilly Country House, a Victorian home constructed in the mid 1800s, on which they are located.
The first phase of the development, which includes 125 properties, launched on 24 February, with the first 27 homes to be completed in June. But a total of 700 homes is expected, pending planning permission for future phases. The scheme is aimed at first-time buyers and families.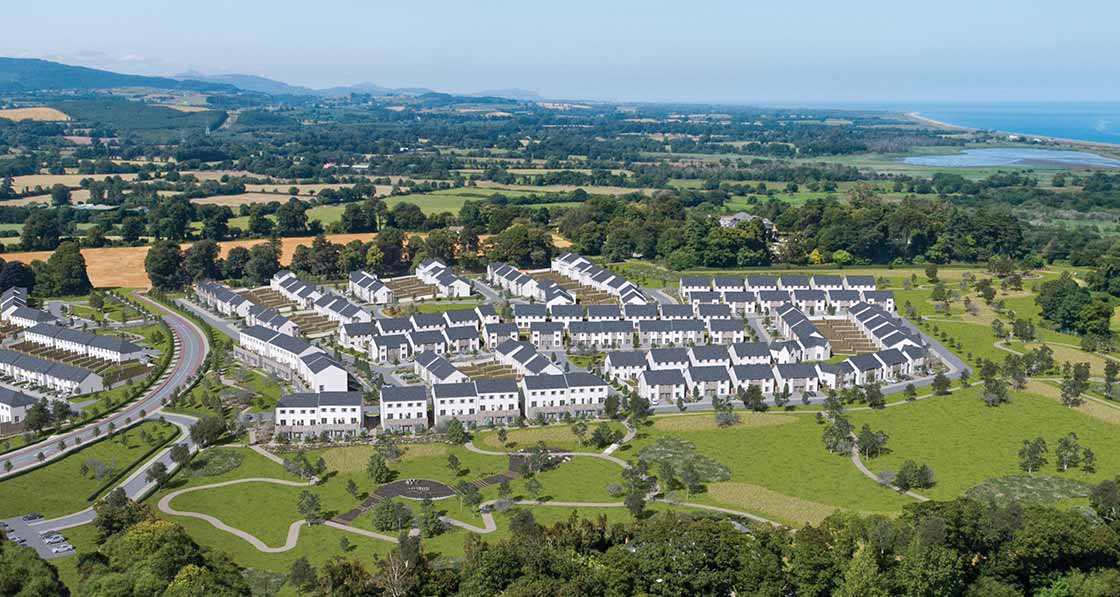 Building a community
This article was originally published in issue 41 of Passive House Plus magazine. Want immediate access to all back issues and exclusive extra content? Click here to subscribe for as little as €15, or click here to receive the next issue free of charge
Robbie McGrath, head of sustainability with D-RES, has been involved with the project for the last seven months. With a background in engineering, he worked in Finland for 13 years as a sustainability consultant on projects ranging from offices, to airports, hospitals and universities.
He says that one of the aspects that drew him to D-RES was the company's focus on community-building, rather than simply house-building. This focus shines through the project, from the layout of the site, to its amenities, and, crucially, to how energy is generated in the homes. "The aim is to have more functional spaces for people, not just a few benches, but connectivity to green spaces and biophilic design, which was championed by our creative design manager Aideen Leahy.
Having that connection to nature for people has been really important, especially in Tinakilly because we have a lot of green space," he says.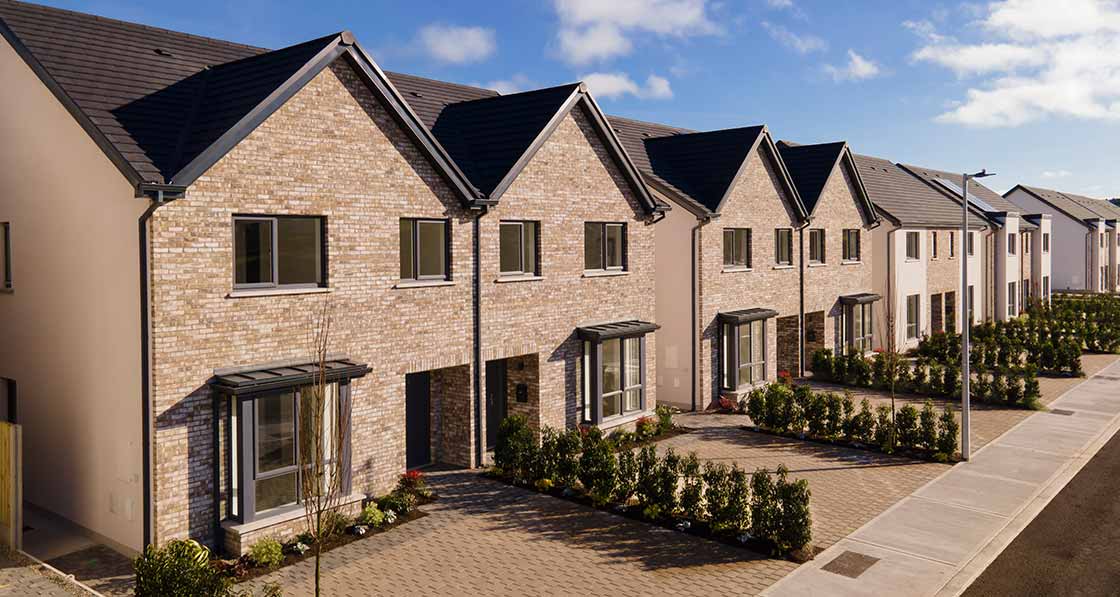 At Tinakilly, the community will be able to generate its own energy, reducing demand on the national grid. All homes are A2 energy rated, and have mechanical ventilation with heat recovery, and fully electrical heating via heat pumps. "The heat pumps have been specially selected to communicate with the smart energy management system to maximise energy efficiency," McGrath says.
Residents have the option to upgrade to an A1 building energy rating (BER) by installing six 400W solar PV panels on the roof and generating electricity that can be stored in smart batteries.
"We wanted to try and create a kind of mini power station in the house," McGrath says. On cloudy days, the batteries can charge from the grid at off-peak times. At peak times, battery electricity can be used to reduce the demand load on the national grid.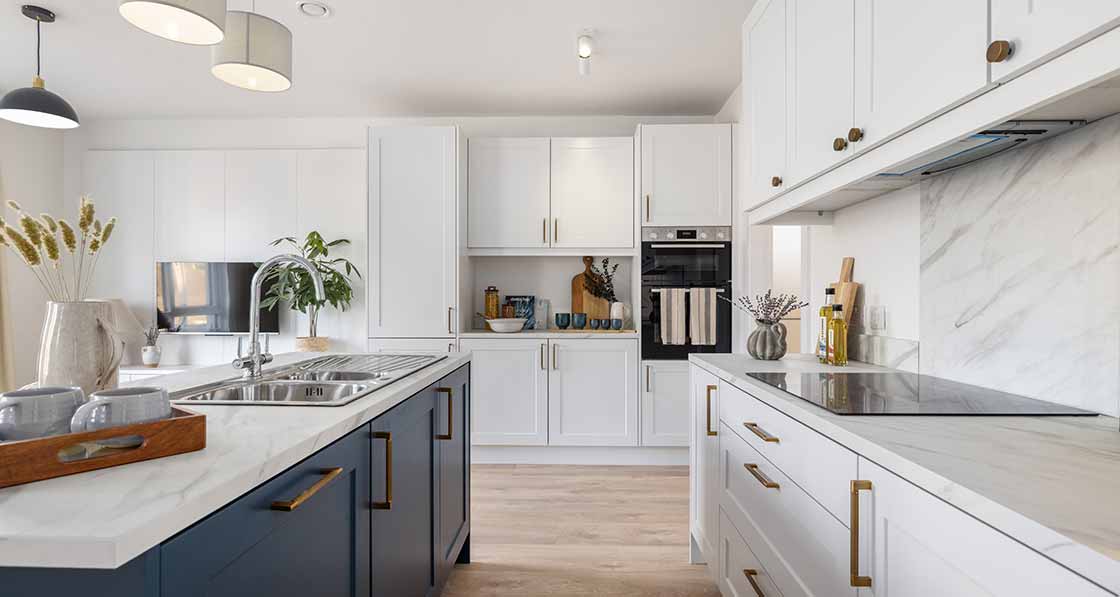 We wanted to create a kind of mini power station in the house.
Renewable energy supplier Pinergy is acting as energy partner on the project, helping D-RES to provide the energy upgrade package.
Philip Connor, head of energy services with Pinergy, has an eclectic background in law, aircraft engineering, boat building, and professional yacht racing. Since 2015, he has been working in the renewable energy space, and is now leading Pinergy's energy efficiency and renewable energy solutions.
The energy system for the homes works in a "fully optimised fashion", he says. The homeowners can generate electricity, they can store it, and a cloud-based software system manages the energy for each home.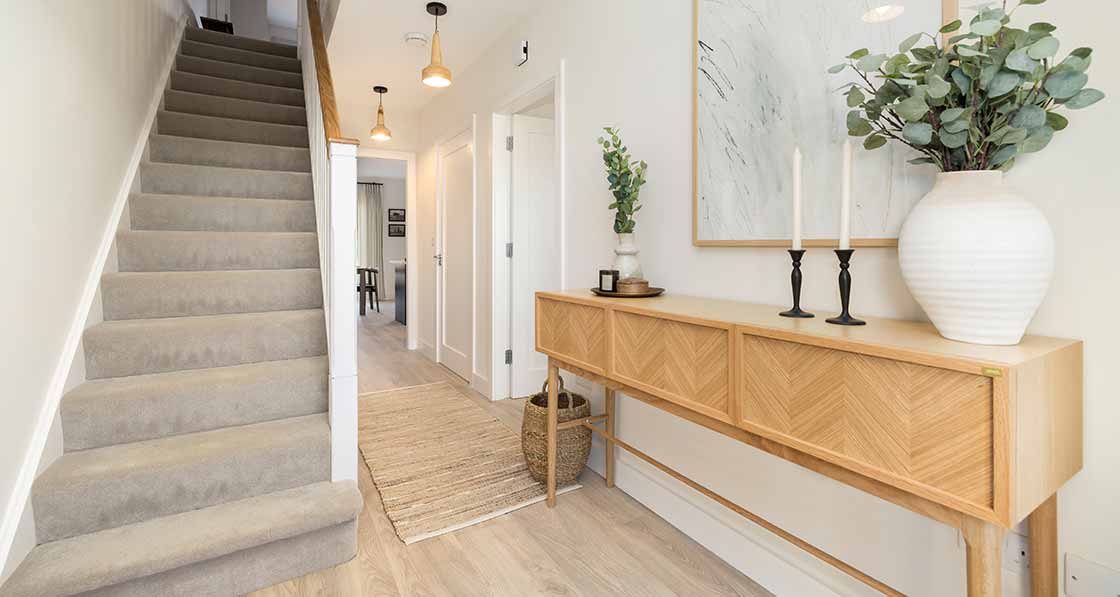 Energy tariffs are cheaper at certain times, and the system takes tariffs into account in making decisions to ensure the homeowner is using the cheapest energy available. The system looks at the amount of energy that is being used and when it's being used during the day. It then looks at the cost of energy over that period, and at weather forecasts over three to four days, to understand what the solar opportunity is like, explains Connor. It then decides around how much energy to store and when to store it.
A home dashboard app shows residents how power is flowing in the household and how much energy is being generated and stored. Although the system's decisions can be overridden by users, the automated system helps make "sustainability easy for homeowners," says Connor.
It's up to the homeowners to decide if they want the panels. "In the initial rollout, we're waiting for the owners to order the systems, and, if they engage earlier in the process, we can install them as part of the construction phase," says Connor, adding that retrofitting is going to be "very straightforward", since the space for cables is built into the homes. "The home is basically battery and solar ready," he says.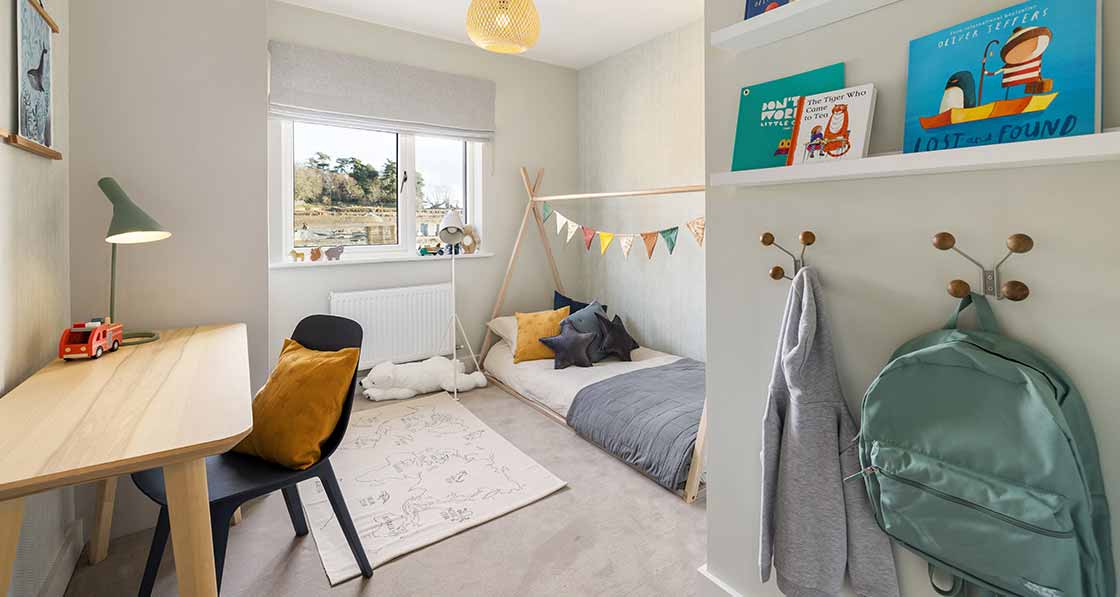 Connor says that the system has the potential to provide big savings, with optimisation modelling suggesting a reduction in energy costs anywhere from 40 to 60 per cent compared to the same homes without this optimisation.
This feat is achieved by a system which will run in the background and decide for the occupants when it's appropriate to use energy generated on site or draw from the grid.
Another big advantage of the system is that, in the event of power outages, people can use their own energy, says McGrath.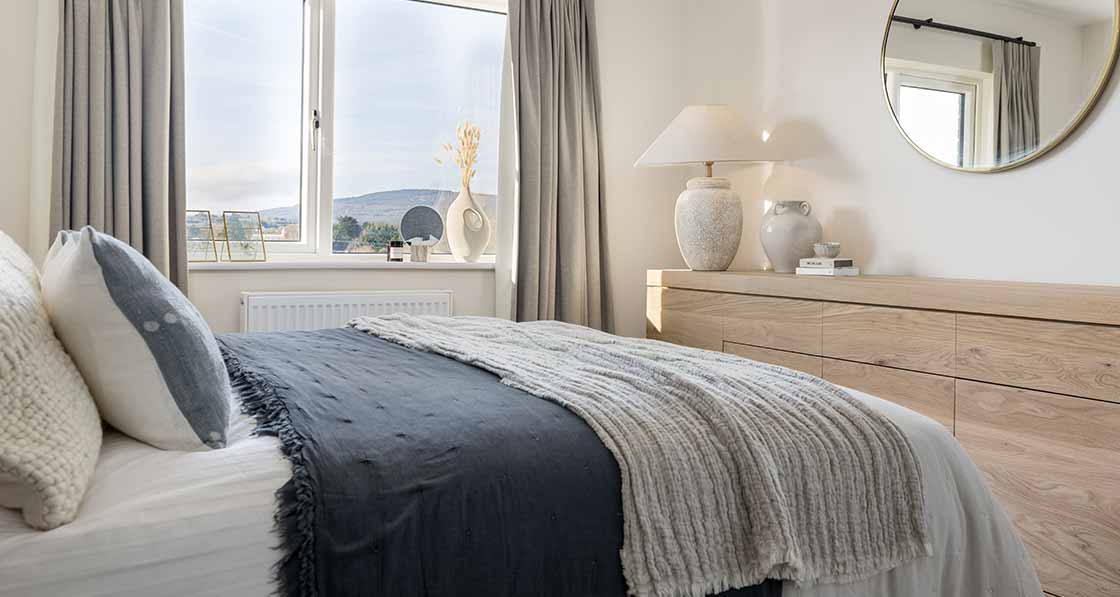 Micro-grid
Having that connection to nature has been really important.
Unused excess electricity can be exported to the national grid or shared with neighbours in a peer-to-peer network, explains McGrath. In the past "you might have knocked on a neighbour's door to get a cup of sugar, now you're getting a few kilowatts of energy," he says. Through this system, residents can set a price and trade with each other.
In future, they may also be able to sell energy back to the grid at times when it might be struggling. This payment is enabled by the Irish government's 'clean export guarantee' tariff as part of its microgeneration support scheme, announced at the end of last year, but it is up to the market to decide on a price for the tariff. (In March, Pinergy became the first supplier on the Irish market to announce a clean export guarantee tariff, which will be available later in the year.)
"We tried to make it as joined up as possible," says McGrath. "So, it's not just individual houses. It's the whole 300-house community which will be linked together in a two-megawatt micro grid," he says.
Electric vehicle (EV) charging points are another option available to residents, Mc- Grath notes, adding that the battery in EVs may be used effectively as secondary batteries for the houses. According to Connor, at present this will be limited to using the EV batteries to soak up grid or micro-generated energy at the most opportune times, as the functionality of powering houses from EVs will require the development of new standards and will require engagement from the EV manufacturers.
McGrath says that by giving residents more control over their energy use, D-RES hopes to empower them to become energy citizens, who play an active role in the transition to a low carbon future.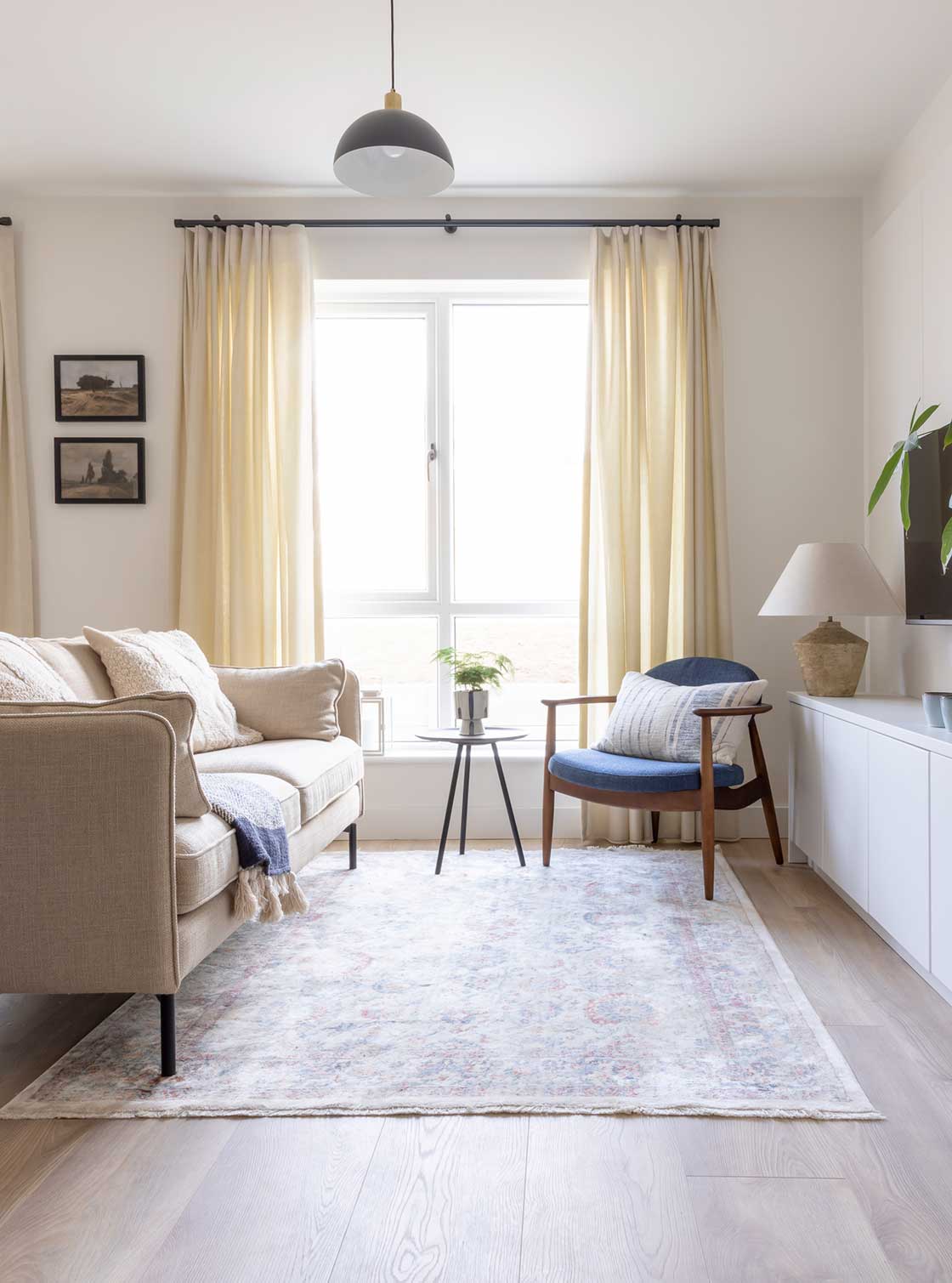 Positive living
When asked what about Tinakilly Park excites him most, McGrath says it's "the holistic approach that has been taken to sustainability. It's not just an add on. D-RES are really interested in putting sustainability at the forefront of everything we do [...], from site selection, to design, construction, down to our waste management."
The company is also interested in how sustainability and ESG (environmental, social and governance) principles can filter down to the process of house building, he says, explaining that ESG principles affect the entire business.
McGrath adds: "It's how we run our business, how we look after the environment, but also how we look at the social side. We pay people on time, we look after our staff, we encourage companies who have apprenticeships, we select local businesses and local materials, and we try to tie in with local sports clubs, to show that we understand the impact we have and the impact we can have for the good."
As well as hiring McGrath as head of sustainability, D-RES has established a company- wide ESG team to drive ESG actions throughout the organisation. D-RES is also listed on GRESB, an international benchmark for sustainability in property and real estate, with chief executive Patrick Durkan driving the company's overall sustainability goals.
"We now have a sustainable purchasing policy," says McGrath, adding that, going forward, they will be asking service providers to have environmental product declarations for materials.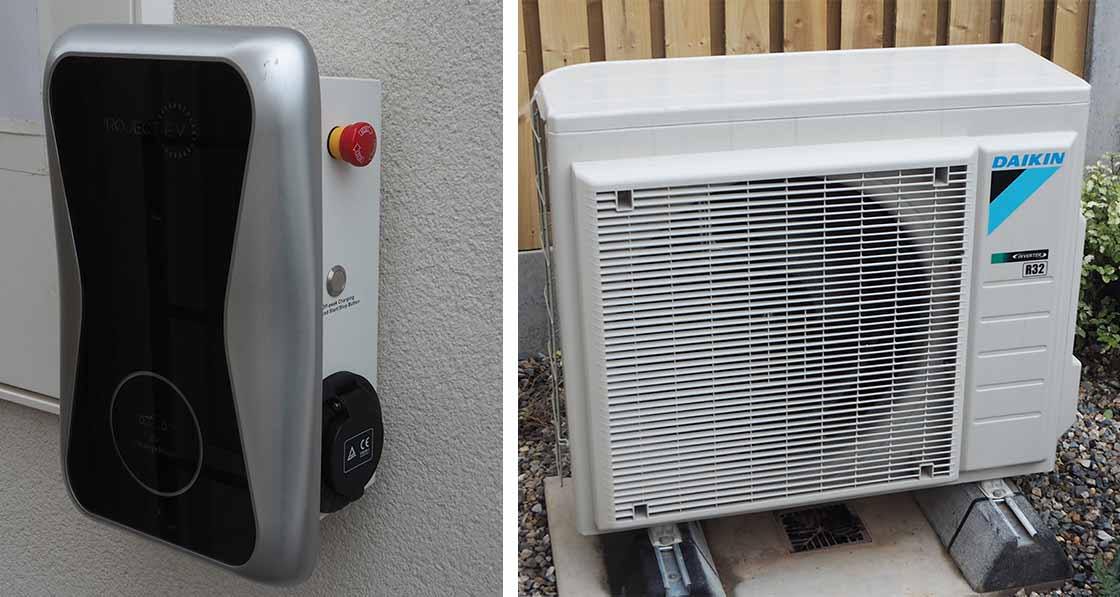 Towards passive house
The houses at Tinakilly Park, which are timber framed, have an airtightness of about 1 m3/hr/m2 and were built using passive house, fabric-first principles — an element of the project driven by D-RES development manager Kevin Durkan. However, the price point of the houses meant it wasn't feasible to adhere to all passive house principles. Triple glazing, for instance, would add a lot of costs, so the windows are double glazed, he says.
"If the market changes as the phases go on, and people say they really would like passive houses, it's easy for us to just upgrade the house and get it to that level", he says. Within the homes, the batteries are upstairs in the areas traditionally reserved for a hot press, and the heat pump cylinders are downstairs in utility rooms.
The PV panels are made of monocrystalline silicon and are self-cleaning, says Connor. The batteries, which are lithium ion, contain built-in inverters which convert direct current electricity from the panels on the roof into alternating current which can be used in the home. They have a 10-year warranty equivalent to 10,000 cycles, he says.
In future, says McGrath, it may be possible to increase the number of solar panels on the roofs from six to eight or ten.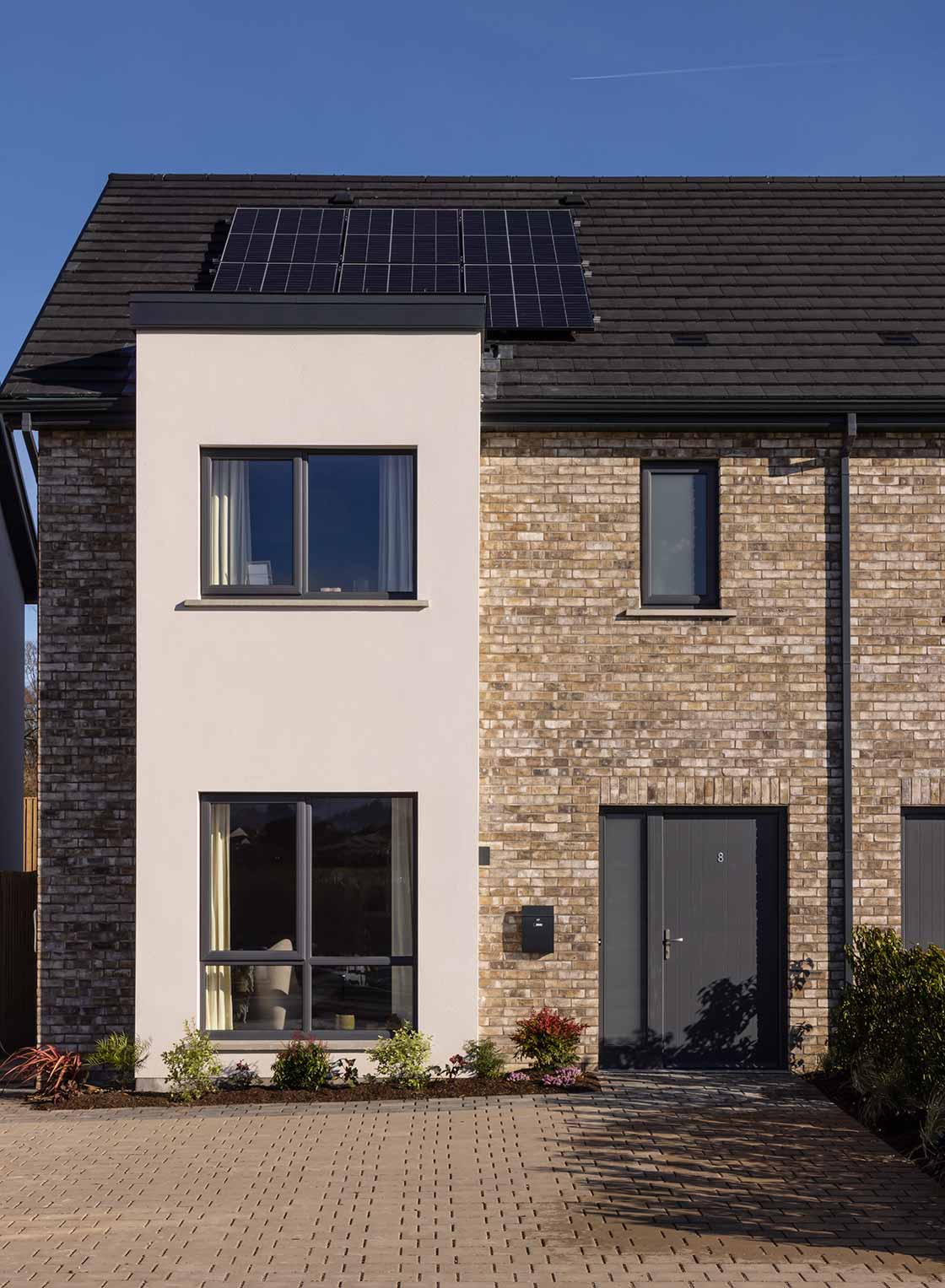 Caring for ecosystems
Excess electricity can be shared with neighbours in a peer-to- peer network.
Given climate-change related extreme weather events, rainwater management was a challenge for the site, which currently has attenuation tanks that may be used in rainwater harvesting, says McGrath. Other ideas include allowing playgrounds to turn into wet playgrounds on very rainy days, he says.
The houses' avian names, from kingfisher, to redwing, to guillemot, conjure up images of local wildlife. Right beside the development lies Broad Lough, the largest estuarine habitat in Co. Wicklow and an important area for migratory and resident birds.
Working with an ecologist on site, wildflower meadows and about 1,400 trees are being included, he says. "Obviously the site had to be cleared to an extent, so we are trying to increase the ecological value of the site after we've worked on it," he says, adding that D-RES are trying to reuse felled trees in the playground areas.
Other options include installing bee boxes, and including better linkages between ponds and meadows to facilitate movement of reptiles and amphibians. These natural features could tie in with educational events for local schools, where children could come in and see things like frogspawn, he says.
Other green infrastructure will include off-road cycleways allowing people to easily travel to and from Wicklow town. McGrath hopes that centralised bike storage facilities with green roofs or solar panels could be added as well. He also wishes to include more facilities for teenagers, such as skatefriendly solar furniture.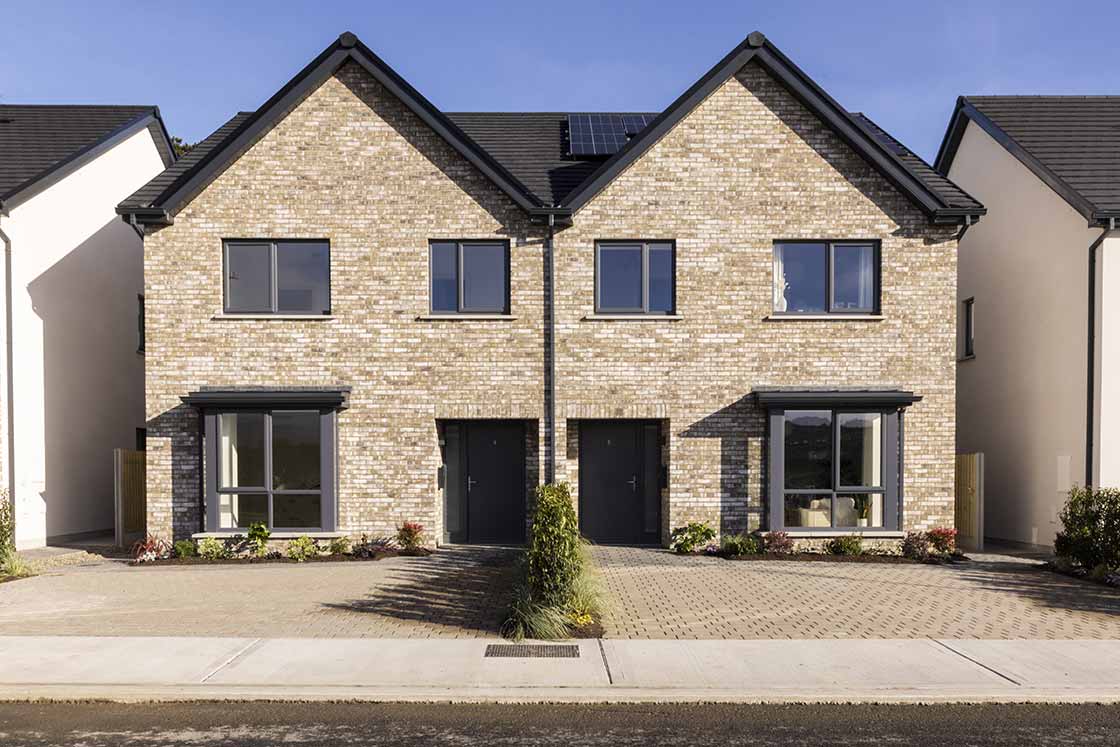 Selected project details
Developer: D-RES
Architect: BBA Architects
M&E design: PMEP Consulting
Civil & structural engineering: CS Consulting Group
Project management: D-RES
Plumbing contractor: Gaffney Mechanical
Electrical contractor: Armour Electrical
Build system supplier: FastHouse
Attic insulation: Baker & Co
Windows & doors: Munster Joinery
Fire proofing contractor: Fireseal
Heat pumps: Daikin, via Gaffney Mechanical
Floor insulation: Xtratherm
Roof tiles: Neal Brennan Roofing
Ground works: Cowman's Civil Engineering
Brick facades: Likestone
Concrete blocks: Dan Morrisey & Co
Concrete (50% GGBS): Dan Morrisey & Co
Landscaping: SMB Landscapes
Solar PV & battery: SolarElectric
Lighting: Eurosales
EMBODIED CARBON
A reference house – a three-bed semi-d with a gross internal floor area of 108 m2 – at Tinakilly Park was assessed by Robbie McGrath using One Click LCA.
The scope was as per the requirements of Level(s), including essentially everything in Level(s) scope, with the exception of external works. The PV array and associated equipment – which can represent a large amount of embodied carbon as the two UK case studies in this issue reveal – were also excluded, as PV is an optional extra for purchasers. For some building products, the calculations relied upon default data from One Click LCA, or from generic/industry association Environmental Product Declarations (EPDs) and Product Environmental Passports (PEPs) – in some cases from similar products.
As Level(s) specifies a 50-year life cycle rather than the 60 years specified by the RICS methodology used in the UK, the project's embodied carbon emissions were reduced by assuming fewer product replacements across the building's lifespan. For instance, this led to two replacements of heat pumps, given the 17- year lifespan referenced in the PEP used for the calculations. The external render was assumed to need one replacement, while the Munster Joinery windows were assumed to need no replacement, given the company's EPD contains a life expectancy of 50 years.
The house scored a cradle-to-grave total of 439 kg CO2e/m2 – comfortably beating the RIAI 2030 Climate Challenge target of 625 kg CO2e/m2. Some of the key factors which may have contributed to this low score, the omission of the PV system notwithstanding, include the timber frame build system, the 50-year window EPD, the presence of the relatively low global warming potential (GWP) refrigerant R32 in the heat pump, and the specification of 50 per cent Ecocem GGBS in the concrete.
In detail
Buildings: Three (112 m2), four (146 m2), and five (207 m2) bed detached and semi-detached timber frame dwellings with exterior block & render.
Location: Tinakilly Park, Rathnew, Co. Wicklow
Completion date: Phase 1 completed June 2022
Embodied carbon: 619 kg CO2e/m2, for building life cycle stages A1 through C4 (assessment using One Click LCA).
Primary energy demand: 37.85 kWh/m2/yr (sample 3-bed dwelling)
Energy performance coefficient (EPC): 0.271 (sample 3-bed dwelling)
Carbon performance coefficient (CPC): 0.257 (sample 3-bed dwelling)
BER: A2 (or A1 with solar upgrade) (indicative BERs only)
Airtightness (at 50 Pascals): 1.46m3/m2/h (sample 3-bed dwelling)
Thermal bridging: Through using a fabric-first approach particular care was given to design out heat loss through thermal bridges in the external envelope, e.g., the use of blocks with low thermal conductivity at the external wall-to-floor slab detail. All junctions were designed as per the FastHouse thermally modelled suite of junction details. Many of these are superior to those in the Acceptable Construction Details (ACDs, TGD L), and they are accredited and certified by an NSAI Approved Thermal Modeller. Thermal bridging factor 0.08 W/m2k.
Ground floor: 150 mm reinforced concrete floor slab, on 150 mm Xtratherm PIR floor insulation, 25 mm upstand perimeter insulation to the edges with min R-value of 1.0 m2K/W. Blockwork wall on monarflex RMB350 DPM/radon barrier. Floor U-value: 0.12 W/m2K
Walls: Facing brick or rendered blockwork externally, on 50 mm ventilated air cavity, on external breather membrane, on 9 mm OSB, on 89 mm timber frame wall panel with Rockwool insulation packed between, on 40 mm PIR insulation, on vapour control/airtight membrane, on 36 mm x 46 mm battens with service void, on 15 mm Type F Fireline board. U-value 0.18W/m2K Roof: Slate tiles on treated timber battens on Siga Majcoat breathable membrane. Attic floor construction comprised of prefabricated attic roof trusses with 400 mm Isover Metal mineral wool laid between and over. Vapour control layer, services cavity and Type F plasterboard beneath. U-value 0.11 W/m2K
Windows: Munster Joinery uPVC double glazed, argon-filled, U-value 1.3W/m2K
Heating system: Daikin Altherma 3 range of heat pumps specified throughout. Seasonal coefficient of performance (SCOP) estimated to be 3.8 at the flow temperature of 45 C. These provide heating via radiators and hot water via the integral thermal store. Back up immersion to supply hot water. Motorised valves on the hydronic heating system which separate the ground floor and other floors into two zones. Each zone has a local thermostat, and can be programmed on a separate time schedule via user interface.
Ventilation: Vent-Axia Sentinel Kinetic FH heat recovery ventilation system installed in the attic of each home. Integrated humidity sensors. Heat recovery efficiency of 90 per cent.
Water: Low flow water fixtures. Basin taps with flow rate of 5 litres per minute. WC dual flush 6/4 litre with effective flush volume of 4.67 litres per flush. Shower flow rate 8 litres per minute. Electricity: Solar PV 6 panels (400kW peak) with output of 2.4 kW. Sonnen 7.5kW battery and smart energy management system.
Green materials: FastHouse timber frame structure, all timber is certified sustainably sourced and chain of custody; concrete used in the foundations and ground floor slab have a minimum of 50% GGBS; all lighting is LED.
Image gallery
Related items
Latest from Anthea Lacchia