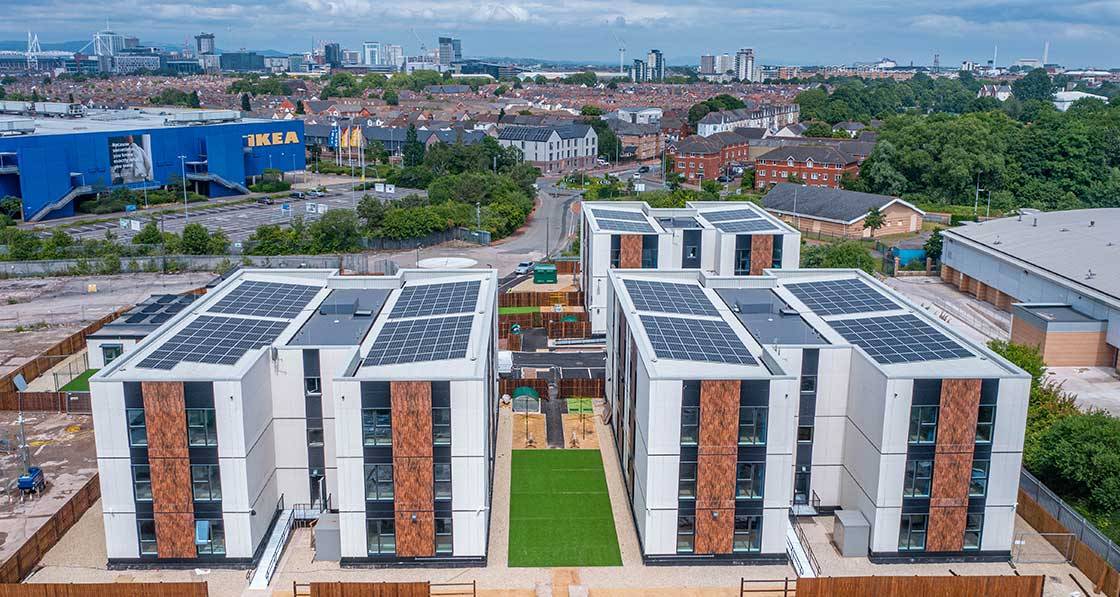 Drone photography: Ali Yassine
Safety net
At times the need to put roofs over the heads of vulnerable people and the need to tackle climate change and unsustainable resource use can seem in direct opposition. But one new Welsh scheme shows that doesn't have to be the case.
Click here for project specs and suppliers
Development type: 48-unit temporary housing scheme for homeless families
Method: Modular volumetric timber frame
Location: Cardiff
Standard: Passive House Plus
Total regulated energy costs: £21/month*
* Based on calculations by a life cycle assessment consultant – without adjusting to current UK energy price cap. See In detail panel for more information.
When he left school in London at the age of 13, Ron Beattie was unable to read or write and his unrealistic dream was to become a golf professional. From such inauspicious beginnings, Ron went on to invent a modular, affordable system for passive houses, which is now patented in 42 countries worldwide. His company, Beattie Passive, has constructed everything from 8,000 m2 homes to social housing schemes – and in this case, large blocks of deconstructable flats to house the homeless in Cardiff.
The first of the Cardiff schemes, the £1.1 million Hayes Place, consisted of 18 studios and an apartment. Built on a council car park, it was completed by Beattie Passive in February 2021. The second larger and more ambitious project, aptly titled Hafan – the Welsh word for haven – cost £11.1 million.
To add some symbolic heft to the project on Ferry Road, Cardiff, the fossil fuel-free scheme was built on the site of a former gasworks.
The 48 volumetric modular one, two and three-bed apartments were built to the passive house plus standard – meaning they meet all the energy performance and thermal comfort target requirements of the passive house classic standard, while also generating a significant proportion of their energy demand from renewables. These schemes were both supported by the Welsh government.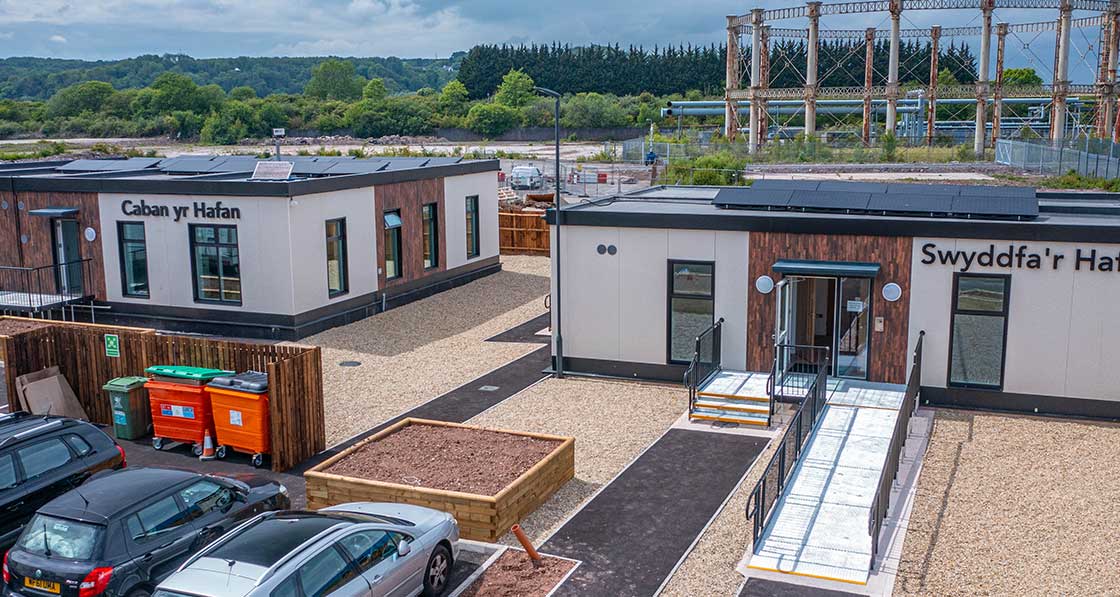 Ron proposed his modular system to Cardiff Council in 2019 as he believed it provided an affordable, flexible and fast solution to their housing challenges. When Ron approached the council, they saw the modular homes as a good solution to getting the homeless off the streets. During the pandemic, planning laws were temporarily relaxed, and permission was secured in a few weeks to build the first development of 18 studios and an apartment at Hayes Place.
Each studio has a bedroom, a shower room and a kitchen area. The energy measures include wall and roof U-values of 0.11 W/m2k and an airtightness of below 0.6 air changes per hour @50 Pa, while soundproofing between party walls is 58 dB. Beattie Passive delivered the scheme, from concept to completion, in eight months.
The cost of the larger Ferry Road development was £11.1 million, inclusive of groundworks and landscaping, but not including site purchase and professional fees.
It was completed in June 2022 and won the 'Building Performance Pioneer' award at the 2022 Offsite Awards. The passive house plus standard for the 48 homes and office block was achieved using PV panels on all the roof spaces, Dimplex Edel hot water heat pumps, with the dwellings' tiny space heating demand provided by 1.5 kW direct electric heaters in living rooms, and battery heaters added to the heat recovery ventilation systems.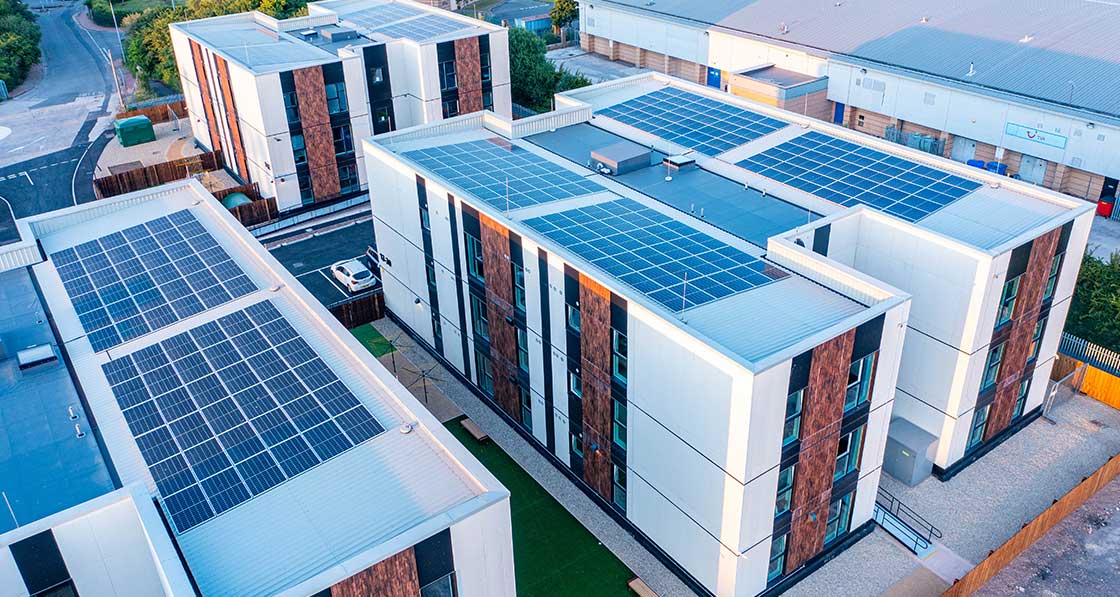 This article was originally published in issue 43 of Passive House Plus magazine. Want immediate access to all back issues and exclusive extra content? Click here to subscribe for as little as €15, or click here to receive the next issue free of charge
A whole life carbon assessment was conducted by construction industry analyst Cercula using One Click LCA. The as built spec for the Ferry Road development was compared against the same scheme built using traditional cavity wall construction, to standard energy performance levels, including a gas boiler. Cercula's analysis found the as built spec to be 78 per cent lower in terms of whole life carbon emissions compared to the traditional build spec, leading to an estimated saving of 5,189 tonnes of carbon – equivalent to 12,067 barrels of oil. What's more, as this analysis used current carbon intensity factors for operational energy use, the estimates for the as built spec are punitive.
This is because the actual scheme uses electricity for heating as opposed to gas in the traditional build spec – and this analysis ignores the profound impact that decarbonisation of the electricity grid will have during the lifespan of these buildings.
The council is carrying out a study of energy costs and expects them to be relatively low. Cercula's estimate was that residents would save £2,200 on their annual bills, although this figure is likely to be higher as energy prices have since risen.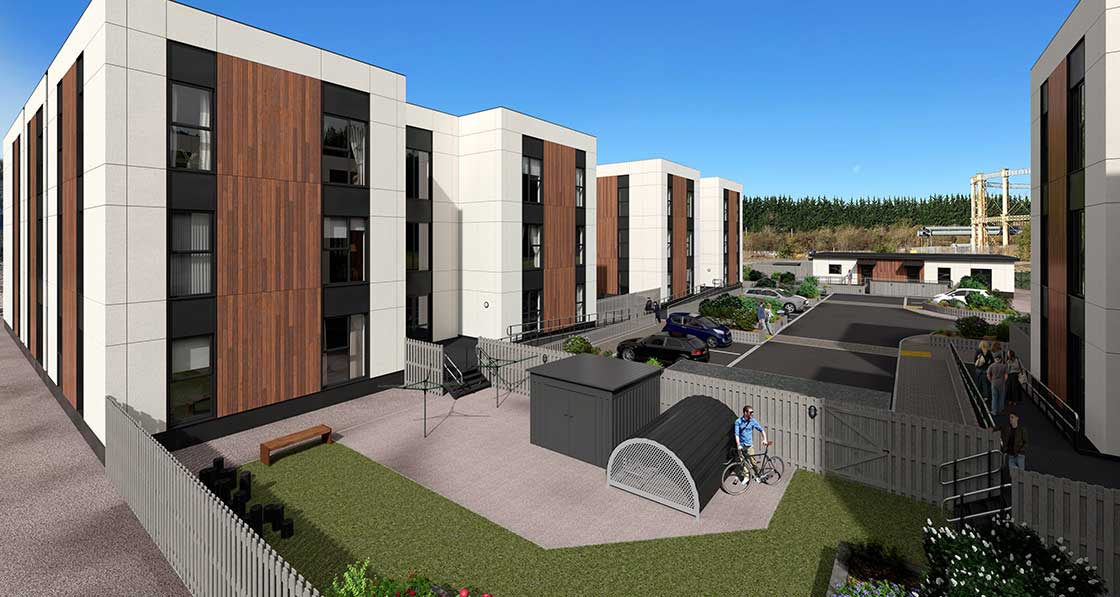 "At Cardiff Council we're keen on zero carbon homes for environmental reasons, but also because of the low cost of heating," says Christopher Probert, project manager for housing and development. "The cost of building conventional homes has soared so, although building passive houses has cost slightly more, the gap has closed. And the funding from the Welsh government helped a lot."
The council put a lot of thought into how to offer support to the residents and the site includes an office block for staff, a training room, a training kitchen, a 24/7 medical office, and a crèche. "We've tried to be all-encompassing in addressing people's needs, whether it's their mental health, getting a job, or helping with parenting. It's reassuring for them to have security and support on site. The idea of the training kitchen is to help residents learn to cook a nice meal and be more independent," he says.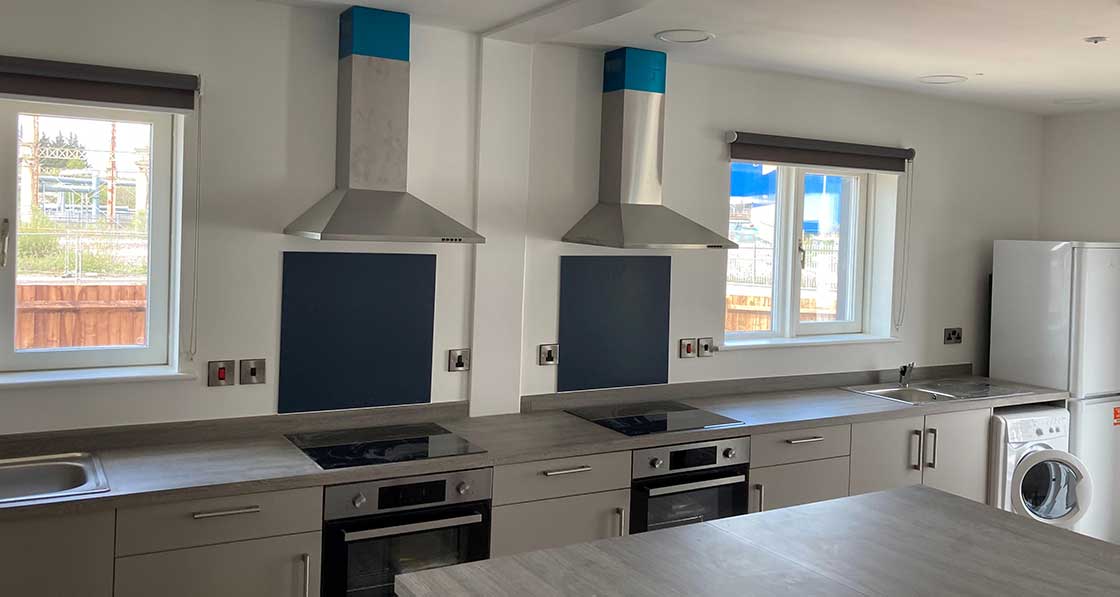 The cost of building conventional homes has soared so, although building passive houses has cost slightly more, the gap has closed
The reactions to being offered a flat have been intensely emotional. "Some were in tears. You can imagine they've been on the streets, then in hostels, and temporary hotels. And all of a sudden, they're going into a lovely apartment. It's been incredible and helped a lot of them to get back on their feet," says Ron.
The affordability of the development, which works out at around £2,300 per square metre, is down to the flying factory concept, Ron says. Beattie Passive built a factory specifically to construct homeless accommodation at the Carrow Works site in Norwich, where the company is based. It allowed production to be ramped up to meet the tight deadlines for clients during Covid and is still in use. The factory led to the creation of over 80 new jobs, ranging from apprentices and carpenters to factory managers and other support roles. "One of the most important aspects for me is providing jobs for young people," says Ron. "The average age is around 24 and most have never used a hammer before."
Ron uses his life story to inspire the youngsters, many of whom have struggled at school as he did. Beattie Passive also recruits workers among young offenders and in adult prisons. Working with a social enterprise, Beattie Passive trained four young offenders who have since built 21 passive houses using the method, Ron says. Prisoners from Wayland Prison, Norwich, have also built components of the modular homes. "It gives them a skill they can use when they come out of prison. We spend billions every year trying to rehabilitate prisoners who then can't get a job and reoffend soon after they're released. We need to support these people to learn new skills," he says.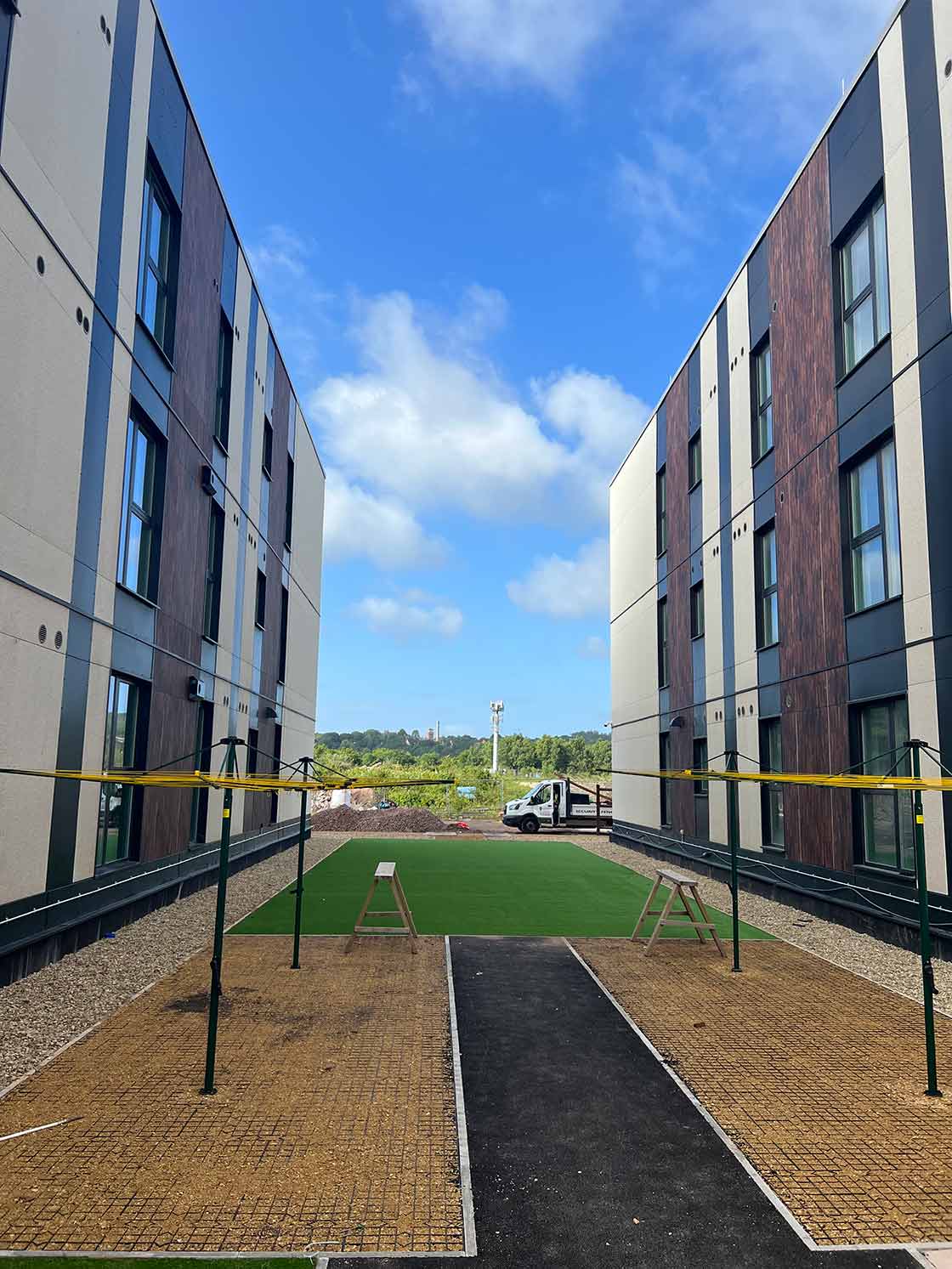 Constructed around a sustainable timber frame, the Beattie Passive Build System maximises airtightness and minimises thermal bridging. The company was the first in the UK to be certified by the Passive House Institute in Germany for a complete build system. More than 450 homes of all sizes have been built using the Beattie Passive build system. The company also franchises out its system and has partners all over the UK. Beattie Passive takes care of the design and the testing and with support, their partners set up flying factories to deliver their own homes.
"We design high-performance, high-quality buildings that are very simple to deliver. I wanted to develop a build system that was going to be able to be stick-built by anyone anywhere. So, it started off with stick building, then went to panels and ended up with being fully modular, but it's essentially the same system," said Ron.
"The buildings just fit together. But they're made from high-quality components and could be there for 100 years or be dismantled quickly and easily put up again somewhere else. The sound proofing is 58 dB, which is much better than building regs. Each one is designed to flood completely with water and all the materials will recover 100 per cent. They've got ventilated voids underneath, they're open cell allowing moisture to get out, and they're made from treated timber."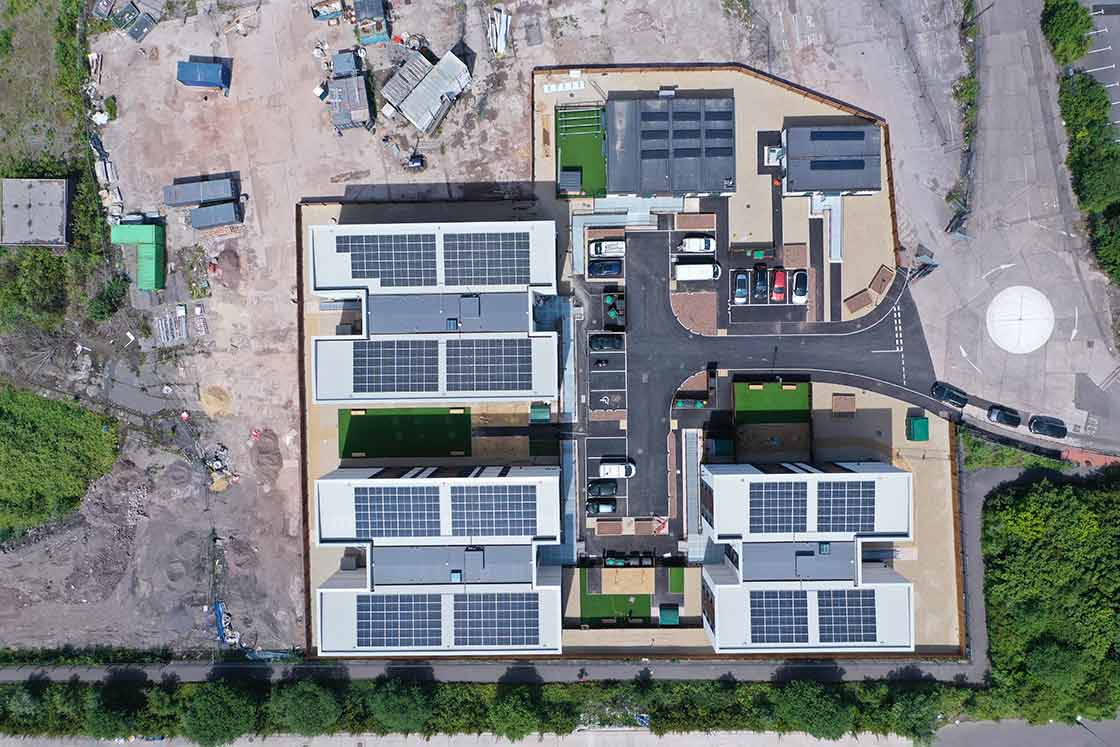 Drawing on years of practical experience as a property developer, and his skills as a carpenter, the invention of his modular system came whilst he was building Code Six lifetime houses. Ron formulated the idea after despairing at the low quality of some of the construction work. "After about three years of designing and planning the Code Six homes, I went up the scaffold one day and looked down the cavity. There was no insulation. I'd spent ages trying to achieve good results, and one workman had let me down. What I realised was that, realistically, hardly any buildings are built as we design them," he says.
He resolved to create a new system that could be easily manufactured and be perfect every time. It would not rely on the skills and dedication of many workers. It could be modified over time and even dismantled and moved to another location. His initial goal was to find a simple, fool-proof method of construction. The passive house element came later.
"As soon as I heard about passive house 14 years ago, I felt it had to be the future of housing. But the truth is we achieved passive house by default. I started by wondering why we needed separate insulation for floors, then also walls, roofs and ceilings, all fitted by different people. Why not simply create a void around the building and inject it with insulation? Then we can test it to guarantee there are no cold bridges anywhere. That's quite simple and it's also part of the passive house process with thermal bridges and continuous insulation."
In recent years, Ron has been focused on promoting passive house as a practical solution to many of the challenges facing the construction industry and the housing sector. "Fuel poverty and the climate emergency are without doubt two of the biggest challenges facing housing providers, and we're still in the midst of a chronic housing crisis. Our certified build system combines all the energy efficiency, comfort and carbon-saving benefits of the passive house standard with the speed and versatility of volumetric modular design, so we can tackle all these issues head on. Passive house is also a rigorous quality assurance standard, so it narrows the performance gap. The end result is that we can build energy efficient low and net zero carbon homes to passive house standards at the scale and pace required to ease the housing crisis. And we can do it with absolutely no compromise in build quality or performance."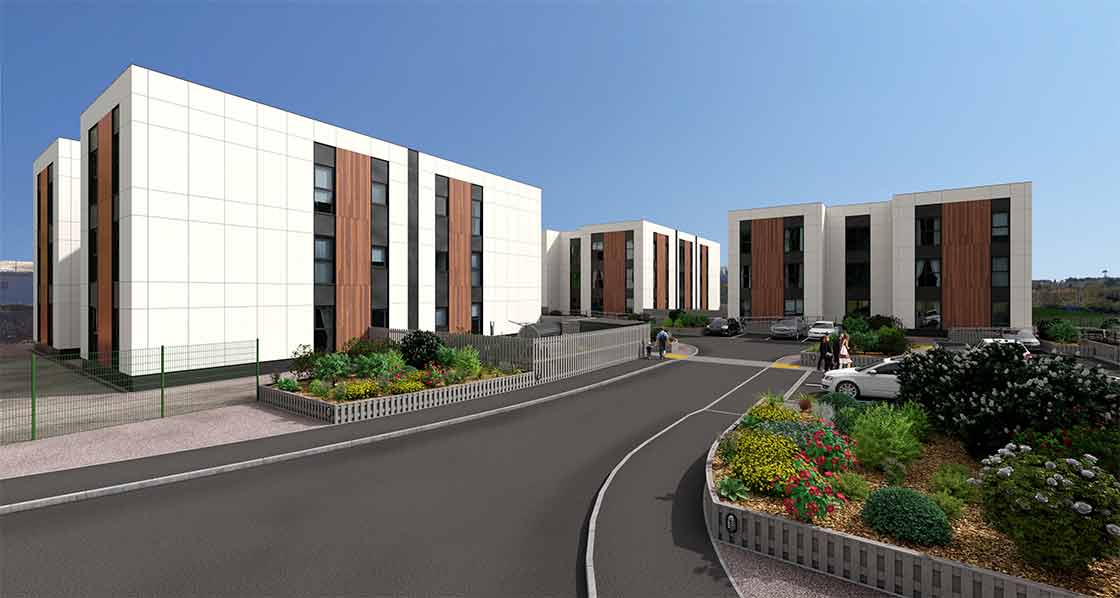 We build our modular homes to passive house standard at our offsite factory before transporting them directly to site
Ron believes that modular, relocatable 'meanwhile' housing, like the project at Ferry Road, is the answer to the UK's housing shortage and the homelessness crisis. "It's no secret that the UK needs more housing, and urgent action is needed," says Ron. We've shown that we can accelerate the delivery of social housing by using modern methods of construction. We build our modular homes to passive house standard at our offsite factory before transporting them directly to site. It's extremely efficient. By doing it this way, we have more control and we're not at the mercy of the UK's weather or impacted by the skills shortage in construction."
Beattie Passive is working with many clients across the UK to deliver both permanent and temporary housing and the company is looking to recruit new flying factory and modular factory partners. "When we first started, we were considered the jokers wanting to make it the norm that passive house is available to everybody. But with our modular method and flying factories, it can be affordable and I think it's the future of housing," Ron says.
Selected project details
Client: Cardiff Council
Build system, main contractor & design: Beattie Passive
Energy consultant: Syntegra Group
Quantity surveyors: Allen Construction Consultancy
Airtightness tester/consultant: Air Testing Limited
EPCs: Low Carbon Box
Passive house certifier: Mead Consulting
Whole life carbon calculations: Cercula
EPS insulation: Energystore
Airtightness products: Proclima, via PYC
Windows and doors: Rationel
Roof lights: Lamilux
Cladding supplier: Steni
Hot water heat pumps: Dimplex
Heat recovery ventilation: Brink, via CVC Systems
PV: Urban Solar
In detail
Project overview
Hafan at Ferry Road, Cardiff is a modular volumetric development of forty-eight homes with two ancillary support and office blocks, commissioned by Cardiff Council in response to the urgent need for high quality, temporary housing for homeless families in Cardiff. Cardiff Council is providing full wraparound support services.
The entire development is rated net zero, and completely demountable and relocatable. This means that if the need for emergency accommodation arises elsewhere, the whole development, or the individual homes within it, can be demounted, relocated, and reconfigured as necessary. This gives Cardiff Council the flexibility to respond to their future housing needs, without the need for demolition or new building sites - both of which are carbon intensive.
Building type: 48 volumetric modular one, two and three-bedroom apartments in three-storey blocks, plus two ancillary blocks housing an office block, training room, training kitchen, a 24/7 medical office and a crèche.
Block A: 172 m2
Block B: 1,032 m2 (excluding communal areas)
Block C: 1,260 m2 (excluding communal areas)
Block D: 1,260 m2 (excluding communal areas)
Block E: 86 m2
Four additional bungalows (52 m2 apiece): 208 m2
Site type & location: Brownfield site, Ferry Road, Grangetown, Cardiff – previously the site of a historic former gas works.
Completion date: June 2022
Budget: £11 million (not including site purchase and professional fees) fully inclusive. Beattie Passive was the main contractor throughout, so this figure also includes groundworks and landscaping etc.
Passive house certification: Passive house plus (certification pending)
Space heating demand (PHPP):
Block B: 6 kWh/m2/yr
Heat load (PHPP):
Block B: 6 W/m2
Primary energy non-renewable (PHPP):
Example dwelling: 91 kWh/m2/yr
Block B average: 88 kWh/m2/yr
Primary energy renewable (PHPP):
Example dwelling: 27 kWh/m2/yr
Block B average: 42 kWh/m2/yr
Overheating:
Block B: 2 per cent of year above 25 C (PHPP)
Number of occupants:
Example dwelling: 2 adults & 2 children
Block B: 60 people
Energy performance certificate (EPC): 103A
Measured energy consumption: Not available yet – though monitoring is planned with Cardiff Met University
Energy bills (measured or estimated): Estimated annual energy bill for flat 5 (a three-bed 86 m2 property) is £249
Airtightness (at 50 Pascals): 0.54 ACH (typical result per block)
Thermal bridging: -0.039 W/mK (Y-value for each flat)
Ground floor: 22 mm chipboard, 25 mm EPS ridged insulation, 1,200-gauge polythene airtight membrane, 18 mm OSB, 304 mm timber Easijoist filled with EPS bead insulation, Monoflex radon barrier, 12 mm Versapanel. U-Value – 0.11 W/m2K.
Walls: Steni whisper white 6 mm cladding board, 25 mm timber batten, Frametite membrane, Magply board, 300 mm Beattie Passive timber stud filled with EPS bead insulation, Magply, Intello airtight membrane, 25 mm batten, plasterboard. U-value: 0.11 W/m2K.
Roof: Firestone EPDM, Frametite membrane, 18 mm OSB, 304 mm timber Easijoist filled with EPS bead insulation, Magply, Tyvek reflective airtight membrane, timber batten, plasterboard. Windows & external doors: Rationel Auraplus aluclad windows. U-value: 0.79 W/m2K.
Roof lights: Lamilux Glass Skylight FE Passivhaus automatic opening vent roof lights. Passive house certified component, Usl-value: 0.84 W/m2K.
Heating system: Towel rail in the bathroom and 1.5kw heater in living room, MVHR post heater, and Dimplex Edel 200 hot water heat pumps.
Ventilation: Brink Sky Renovent 200 heat recovery ventilation systems, installed by CVC Electricity: 2.5kW Renusol Metasole / Metasole+ PV array per flat – feeding electricity to each flat.
Sustainable materials: Timber frame using FSC certified timber.
Image gallery
Latest from David W Smith